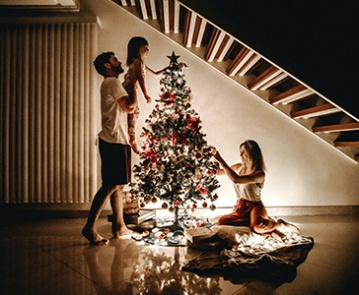 This is it, 2022 is coming to an end… but not before we spread some cheer, some merriment, big bonuses and deck the halls.
It's time. That time of year where we look back and reflect, celebrate the gifts of light and love, and look forward to a new year with fresh vitality, expansive goals, noble ambitions and welcome wish lists for all.
So is decluttering your home on the list? Should it be? Has it been? What's going on with your (fill in the blank) _____________ room (s)??
Nothing says "Holiday Cheer" like having friends and family over… and that means CLEANING UP your place!!! Cleaning every room takes time, and if you have clutter, well, it can take even longer. So here are my top five takeaways for clearing clutter and getting the new year off to a fabulous start.
1. Make Your Bed – As Navy Seal Admiral William McRaven says, "MAKE YOUR BED" every day. This allows for a fresh start of success, a little success, but it gets you going and leads to more success, and at the end of the day you have a nice clean bed to enjoy.
2. Put Things in Their Place – On average we spend over two days a year looking for keys, wallet, glasses and phones. That's a lot of anxiety and wasted time. Try this. Set up a shelf or key ring by the door you enter and exit from daily. Get into the habit, BEFORE you leave home, of asking yourself, "Got my keys, wallet, glasses, phone?" and when they are put back in the same place each day, the answer should be a resounding YES as you move on with your day.
3. Start to Clutter Clear with a simple task first – You may have a lot to handle, but looking at a giant mess only gets you frustrated and delayed. So start simply: try one drawer, or one shelf and get that area handled. Upon completion, negotiate with yourself – take on another drawer or not. Simply starting gets you headed in the right direction. Try it.
4. Decluttering Makes Room for New Stuff – AND you get to donate and make others feel good about the items you no longer need or want. You are DOING A GOOD DEED when you lighten your load of stuff.
5. TMS – TMS is a condition, I've discovered, that we all seem to have. TMS is TOO MUCH STUFF. Let's get into the season by decorating with what we have, purging old ornaments and broken items, and only bring in new things once we have the old ones handled (hint: donate or discard). In this way, you'll have enough room for everything, you're making an impact on others by giving, and you satisfy your craving for more, more, more.
That's it from Clutter Central. We wish you a Merry Christmas, a Happy Chanukah and a Happy Kwanzaa as well.
Need assistance? We are here for you.
Just dial up David Hall at 561-706-7779 or email me with your most challenging projects. APlusClutterClearing.com.
By the way, we offer beautiful gift certificates for those "hoard to please" loved ones on your holiday list!!
May PEACE PREVAIL on EARTH. May we all have clean food, water, shelter and warm feet.
May we embrace each new day as the MIRACLE that it is.
Peace, Salaam, Shalom. Clear the Clutter… Clear the Mind™