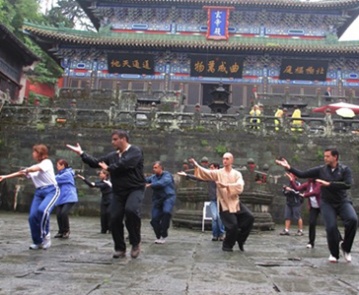 Medical studies from around the world show the benefits of regular Tai Chi (Taijiquan) practice. Studies indicated it can be a great ally in the treatment of chronic conditions, and preventing health problems associated with aging.
The Tai Chi for Fall Prevention Study published in Journal of American Geriatric Society in 2007 (with 702 participants) showed a significant improvement in balance that culminated in the reduction in the risk of falls by 70 percent. One must bear in mind that falls are the leading cause of injury-related death among adults aged 65 and older.
A Tai Chi for Arthritis study published in Journal of Rheumatology in 2003 has also shown that after only 12 weeks of practice, participants achieved remarkable results, including 35 percent less pain, 29 percent less stiffness, 29 percent higher ability to perform daily tasks (like climbing stairs), among other health benefits.
A Tai Chi for Back Pain study by Sydney University in 2011 showed that Tai Chi can improve flexibility and strengthen abdominal and pelvic muscles, resulting in a significant reduction of the intensity of back pain after 10 weeks of practice.
More recently in 2021, a review of 23 studies (with 1,663 participants) concluded that Tai Chi can help to improve exercise capacity, lung function, and quality of life in people with COPD (chronic obstructive pulmonary disease).
Several other scientific studies have been done showing the amazing benefits of regular Tai Chi practice.
Regular Tai Chi practice also improves strength, flexibility, and aerobic conditioning. It reduces stress, improves muscle memory, and promotes cardiovascular fitness with low effort.
Tai Chi embraces the mind, body, and spirit in a single practice. It has passed the test of time, from ancient China to our days. It deserves your attention – you must try it!