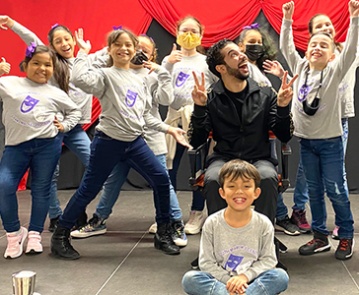 "I was obsessed with TV and film as a kid," Miguel Luciano told me. "John Ritter from 'Three's Company' was my favorite TV show, and even though I shouldn't have been watching it as a child, it wasn't that inappropriate because it was mostly innuendo and double entendres. But it was the physical comedy of John Ritter that called me, and I thought this guy is so funny, I just want to make people feel as good as he made me feel while watching him."
Miguel shared this and more in our Zoom interview, where he spoke from the South Miami K-8 Center, a magnet school for those who are talented in the arts where he volunteers his time. Luciano, who's 27 years old, was dressed in costume as "Grandpa" for a holiday theatrical show where 14 third grade students would play his grandchildren. They were all excited to perform that evening.
"My full-time job is I act. I just finished a movie filming in Miami and had a fun little supporting role. Then, I would leave the set there and go to my full-time directing job – the Miami Children's Theater – where I stage direct kids who are scholarship students. It's a nonprofit organization, and the shows basically operate from ticket sales, donations from parents, and sponsors who believe in what we are doing.
Miguel is making his return to the stage in the classic musical "Cabaret," which will have a nine-day run in early January at the Manuel Artime Theater. "The cast and I are exploring this in a fresh way," he tells me. "It's a daunting task to tell such a powerful story about Germany in 1931, but we are confident our interpretation will honor the legacy of the original production, which hit Broadway in 1966 for 1166 shows."
Miguel believes this upcoming production is more timely than ever, and as the lead actor of the show (in the iconic role of Master of Ceremonies originated by Joel Grey), he is offering a fresh interpretation to tackle issues that are center stage today, mirroring society and all of its blemishes. "I'm doing the exact opposite of Joel Grey, because to try to even lean into the genius insanity of his brain is too impossible a task, so I am going to the source of the text. I am going deep into the well of my imagination and am using it as fuel to sit down, dissect the script through my own lens, and then I'll bring forth whatever comes about." His intention is to leave the audience with a meaningful and impressionable experience.
I am looking forward to seeing his performance. Show dates are January 6-15, 2023.
You can order tickets online by searching Manuel Artime Theater or calling 305-575-5057.
Young audiences might know Miguel Luciano from his lead role on the Nickelodeon series, "Talia in the Kitchen," that is still being aired around the world today. It started when he was 21 and he says, "It all fell into my lap. My agent called and said there is a show I should audition for, and after three callbacks, they flew me to LA to do the screen test and then we ended up filming 40 episodes, which in our day, in the television world, is more than most shows go on for.
"I played a funny villain and it's so interesting because John Ritter played a chef on 'Three's Company' and I played a chef on 'Talia in the Kitchen.' It felt like God was winking at me. It was all so comical."
There is a lot more to Miguel than meets the eye… and you can see from the photos he is quite captivating. He has a huge heart and cares deeply about giving back and serving those who are in need. This is the part I wanted to highlight, because it's a new year and the time when we set new intentions. My vision is for you to be inspired just the way Miguel was when a spark of awareness ignited an opportunity for him to change and unite a community.
One evening, five years ago, Miguel saw coverage on the local news station in Miami about the aftermath of Hurricane Maria in Puerto Rico. "The tragic irony," he recalls, "was that I was sitting at home looking for something to watch on my television, when so many people in Puerto Rico, and even Mexico, barely had a roof over their head." He decided, in that very moment, he had to do his part and give back to those people who had lost so much. Miguel reached out to his contacts and social networks, explaining his frustration and thirst to make a change and contribute some relief. Within 24 hours, countless friends responded, offering their help, services, and time.
Fast forward, Miguel secured a partner with Miami Children's Theater and a venue with the Dave and Mary Alper JCC, and several local students, teachers, and Miami natives sang and danced, played guitar and performed, and raised significant funds to help those recovering from the hurricane. It was a win-win, feel-good venture that fuels Miguel today to continue making a difference.
"I am always looking to get more clear in who I really am, and the arts do a great job in revealing people to themselves. Art is disarming, art is enlightening, art is illuminating – whether it's the ballet, a great Rolling Stones album or a new TV show on HBO, art has the ability to reveal us to ourselves. So the fact that I get to constantly get immersed in the arts, I get to stay connected to myself as much as possible."
Connected – I like that word and could literally feel Miguel's heart through my laptop screen. I asked one more question: "What have you learned about yourself recently?"
"I really, really care about what I am doing with these kids.
I just finished directing '13: The Musical.' These kids poured out so much love and feedback and said things that shocked me. What I am doing affects them and they are our future. They said things like: you see me, you kick my butt, you push me to be my best. They respect me holding their feet to the fire and pushing them to the light and pushing them to the truth and it affects them in a fabulous way! To be working with these young people and see how I am making a difference in their lives… I'd say right now I am learning about authenticity and freedom. That's what's new for me. Leaning into this as long as I am needed and leaning into where I am being led."
One thing's for sure… we have all been led into 2023 – What will you be leaning into that will ignite your passion, purpose, caring heart and sense of being connected to others and possibly to your community?
Definitely worth pondering…. Thank you Miguel for all your inspiration. See you on stage at "Cabaret!"
www.AskLiz.com
Liz Sterling is a writer, coach, teacher, broadcaster, advice columnist and inspirational public speaker. Meet her at: AskLiz.com