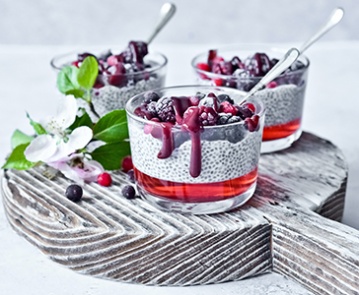 "Ch-ch-ch-chia" may be a familiar jingle to you if you grew up during the 1980s. Little did we know those popular ceramic pets sprouting grass "hair" were not only edible, but often referred to as a "superfood."
According to Harvard School of Health and pretty much every other source, chia seeds are touted to offer health benefits beyond their nutritional value, such as lowering cholesterol or improving gut health. They are the richest plant source of omega-3 fatty acids and are a complete protein, containing all nine essential amino acids that cannot be made by the body. A nutritional powerhouse!
Recipe:

If the pudding is too thick for your taste, add additional plantmilk to the mixture until desired consistency is achieved. Enjoy with the fruit of your choice.
INGREDIENTS

• 1 cup unsweetened plant milk (oat, soy or almond)

• 1 cup vegan Greek yogurt

• 2 tablespoons hulled hemp seeds

• 2 tablespoons ground flax seeds

• 1 tablespoon maple syrup or more to taste (Optional)

• 1 teaspoon ground cinnamon

• 1 teaspoon vanilla extract

• 2/3 cup chia seeds
DIRECTIONS

1. Whisk plant milk and vegan Greek yogurt together in a large sealable container. Stir hemp seeds, flax seeds, maple syrup, cinnamon, and vanilla extract into yogurt mixture.
2. Stir chia seeds into yogurt mixture until seeds are evenly distributed. Cover the container and refrigerate for 15 minutes. Stir mixture until chia seeds are evenly distributed again. Refrigerate until chilled and set, at least 1 hour.