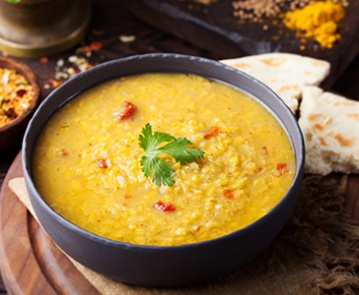 This comforting dal soup is made with hearty red lentils, Indian spices, and creamy coconut milk. It's easy to make and hearty enough for a meal!
INGREDIENTS
• 1 tablespoon olive oil

• 1 medium onion, diced

• 4 garlic cloves, minced

• 2 teaspoons freshly grated ginger
• 2 teaspoons garam masala

• 1 teaspoon cumin seeds
• ½ teaspoon ground turmeric

• Cayenne pepper, optional (pinch or to taste)

• 2 cups dried split red lentils

• 6 cups vegan vegetable broth

• 1 cup full-fat coconut milk

• 1 (14 ounce) can diced tomatoes
• 2 tablespoons lemon juice

• Salt and pepper, to taste

• Chopped fresh cilantro or parsley, for topping
INSTRUCTIONS
1. Wash the red lentils, drain and set aside.
2. Add the lentils to a medium-sized saucepan and cover with the vegetable broth.
3. Bring to a boil and then turn down the heat, cover and cook 20 to 23 minutes (or follow your package directions).
4. While the lentils are cooking: In a skillet, heat the oil to medium-high.
5. Add the cumin seeds and mustard seeds. Within a few seconds, they will begin to pop.
6. Add the chili and onions.

7. Sauté over medium heat for about 10 minutes until the onions are translucent.
8. Add the fresh ginger, ground coriander, turmeric, and cayenne pepper.
9. Cook just to heat through - maybe 30 seconds to a minute.
10. Add the tomato, along with its juices, and cook about 5 minutes.
11. Take off the heat.

12. The lentils should be done. Check them to make sure. You can cook them longer if needed.
13. Turn the skillet contents into the pot of lentils and vegetable broth.
14. Add the salt and coconut milk and heat through.
15. Serve garnished with cilantro (or parsley) and paprika.