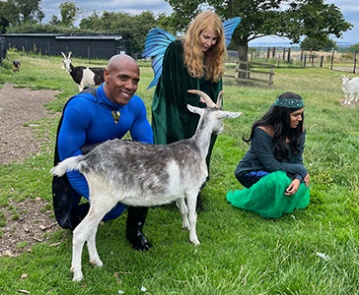 The luck of the Irish traveled with the Veganza Animal Heroes all over the green land of Ireland. Freedom is the Vegan superhero who marshals the flight strength of birds to liberate captive wildlife. Courage is the Vegan mermaid who leads freed wildlife on their return voyage home. Veganza's superpowers include freezing scenes of animal cruelty and causing the perpetrator to feel the fear the animals feel. She also instills empathy.
On our first day, the Emerald Isle welcomed the first trifecta of Vegan superheroes in the world with open arms by putting us on the front page of the Dublin Live news.
Later we enjoyed reading some of the Veganza Animal Heroes' exciting adventures to both the Dublin SPCA summer campers and the Happy Pear twins.
Dublin SPCA summer campers participated in the Veganza Animal Heroes rescue stories and wore their own hero capes. They enjoyed a Vegan picnic lunch of veggie falafel wraps and organic pears from The Happy Pear.
In Greystones, Wicklow County, Ireland, The Happy Pear brothers re-enacted their segment of the Veganza Animal Heroes book with Freedom, Courage and Veganza. All were treated to a scrumptious Vegan lunch afterward.
The book is available now on Amazon and AnimalHeroKids.org. Go green and enjoy some of the Vegan bonus recipes, too.
Veganza Animal Heroes in Rathfarnham, Dublin County, Ireland: Korin Sutton, Susan Hargreaves, Mitali Deypurkaystha and rescued friends.