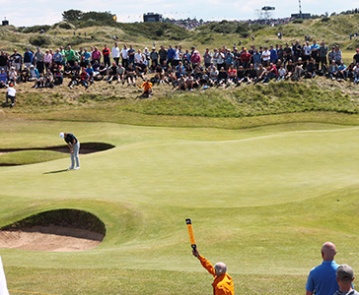 For years we were blessed in this part of the state to not only have great weather at this time of the year, but to literally be a beehive of activities when it came to enjoying bigtime sports in our midst. Oh, how times have changed – and not for the better. Not to be a negative Nelly (and how did that term ever get started? My apologies to all Nellies, Nells or even Nelsons) but there was a time we had every imaginable professional sport at our disposal to watch and enjoy in person. Doral. Honda. Lipton Tennis at Crandon Park (once considered a virtual major championship), auto racing and spring training baseball were all considered part of our permanent sports landscape. Those events opened the door to thousands of annual visitors, as well as millions of dollars for our economy. No more. It's true we still have the tennis tournament, though its venue is a reconfigured Dolphins stadium/parking lot, and you can always drive to experience the other aforementioned events, but it ain't what it used to be, and that's unfortunate.
The reasons why are numerous, and there is plenty of blame to go around: greed, selfishness, shortsighted, or no leadership allowed golf to move completely out of both Broward and Dade counties. How is that possible? Even the Senior PGA tour left, finding greener pastures elsewhere. As mentioned, tennis is still around with the Delray Beach event still on the schedule, but the uniqueness of what we had is no more. This time of the year used to fill a nice slot in our sports calendar, wedged between the end of football season (more on that in a second) and the beginning of baseball. Yes, hockey and hoops are still going on, but it's kind of the dead season for those sports as well, sort of like their "dog days." So, we wait – or drive. The nearest baseball facility is at least 45 miles away in West Palm Beach; the nearest golf is in Palm Beach Gardens. Auto racing will come back, but not until later in the year. We've become a bit of a sports wasteland, when we used to be the epicenter of the universe. Maybe it's just a sign of the times, and perhaps great events will once again find a home in a metropolitan area with over four million people. We'll see.
Meanwhile, keep an eye on your sports calendar, and get ready for football continuing into mid-February. That's right, if the NFL has its way, the regular season will expand to 18 games, eliminate one of the exhibition games, and stretch the playoffs to their natural conclusion – President's Day weekend, with its three-day weekend. NASCAR will be unhappy, so will college basketball, but the NFL doesn't care; it does what it wants, and if you don't like it – tough. I suppose it will be just one more thing to get used to in this ever-changing world. As for me, I'm heading to the nearest golf links before its bulldozed and more condos are put up in its place.
Fore!