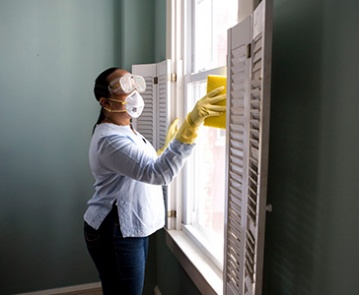 This column asks the question, "What's the big deal with March?"
Well, it's a month that's also an action verb (March one, two, march three, four), so there's something to that. I don't know many kids named March, but there's a lot of Aprils out there!
There's March Madness NCAA basketball. There's "March roars in like a lion and out like a lamb" – the telltale of the onset of spring. There's the Oscars happening and there's St. Patrick's Day and Ramadan.
March is a special time to begin unpeeling from winter doldrums, snow, heavy clothing and darkness at 5 pm. Spring begins in March, and so we enter this month's column with the anticipation of SPRING CLEANING and DECLUTTERING inside and out.
SPRING CLEANING is a ritual – a way of being
Let's get a JUMP on spring cleaning (and clearing out old items). Use my S.M.A.R.T. system found on my site: APlusClutterClearing.com for a safe, fast and effective (short and long term) technique to clearing the clutter.
For SPRING, why not begin with FRESH AIR. Dump the chemical air fresheners in the home – they are toxic – they are chemicals that mess with your mind. Use essential oils, diffusers and natural candles and incense to enliven the aroma of a room.
FRESH AIR. When you say it, read it and get it, you simply FEEL BETTER… more ALIVE, and memories of those dense Redwood forests come into mind for me.
My top five hacks to help get you off the couch and into action
1. OPEN THE WINDOWS – when's the last time you've opened the blinds and opened the windows?? Let in freshness, let out old energies. You might hear the sounds of nature filtering into your home, spot a bird, see a squirrel, hear a dog – and feel more ALIVE.
2. REPLACE FILTERS – It's so important to change your A/C filters regularly. If you have pets or a larger population, do it monthly or quarterly at the very least. This will assure you cleaner, fresher breathable air in your home environment.
3. ASSESS YOUR HOME'S VIRTUES – In order to appreciate your space, take inventory. Take a tour. See what's been working all winter, and what has not. Often times with this inspection, we organically are called to an area, a wall, a painting that calls for our attention. Try it. See where your focus goes and note it for ACTION.
4. CLEAR OUT YOUR CAR and PURSE – Our homes are our castles, yet we spend tons of time in our yucky, dusty, unorganized automobiles. Take a moment, address your car's interior, and make those adjustments that offer you comfort and ease. How often do you rummage through your purse to find keys, a note, glasses, your phone? Clean it out, dump the contents and start a new.
5. MOVE STUFF AROUND – One of the joys of being a professional organizer and decluttering is in the feng shui design phase I incorporate. There's nearly nothing as rewarding as a slight adjustment of an end table, a lamp, a sofa or loveseat repositioning that elevates your mood, changes a space, and affords you a new look without cost. To create positive energy (CHI), move stuff around to reveal a new entry, a refined bedroom layout, or move a painting from a hidden corner to front and center. You'll see, it makes a difference, enhances your mood, and is a way of repurposing your stuff to optimize your home.
Enjoy the month of March. Enjoy your beautiful surroundings. Feel blessed for your health and well-being, and reach out to those in need and donate unwanted clothing, kitchen gadgets, garage tools and so forth.
We are in this life together… let's share and make the most of it.
As always, if you desire guidance, counseling or support, reach out to AplusClutterClearing.com for a complimentary consultation.
Clear the Clutter… Clear the Mind™