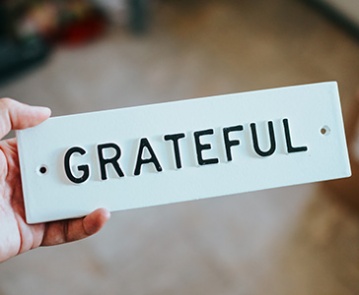 I'll start by acknowledging that we're not all on the same page, but isn't that true about everything? So this article is for those who are feeling unsettled about the direction we are headed, as we approach what is sure to be a tumultuous next year and a half (election 2024 here we come!) If you're feeling like Rip Van Winkle – who may have been comfortably napping as our state took a sharp right and found an open road, not recognizing where you are anymore – this article may be for you.
As difficult as it may seem, Gratitude is the Attitude, once again. We needed it during COVID-19, and it is time once again to revisit this mantra. When facing challenges, it is too easy to get caught up in negative thoughts and emotions. Focusing on things we are grateful for shifts our mindset, reminding us that there are still positive things in our lives.
Practicing gratitude helps reduce stress and anxiety. Research has even shown that expressing gratitude activates the part of the brain associated with positive emotions.
Christopher Littlefield, the founder of Beyond Thank You, offered these reflection questions in the Harvard Review (2020) as a way to cultivate more gratitude in your day:
What am I better at today than I was a year ago?
What has someone done for me recently that I am thankful for?
What physical abilities do I have that I take for granted?
Who is a person that I don't speak to often, but, if I lost them tomorrow, it would be devastating? (Take this as a cue to reach out today!)
What opportunities do I have currently that I am grateful for? (Take this as a cue to tune into your own agency to make a change about things that are upsetting you right now).
Journaling sounds cliched, but that's because it is so often recommended – because it works! Start a gratitude journal and start your day with one of these questions for a week, and revisit the same questions over and over. Starting your day this way, might help you feel more powerful to stand in your truth and not feel so helpless as you ride the wave of wherever it is we are headed, and maybe even be instrumental in steering the ship back in a different direction.
When we focus on the good in our lives, we can become more aware of the struggles of others, which helps us improve our relationships. Connectedness and empathy may be the antidote for the distaste of "otherness" that has taken hold of so many of us. It cultivates hope, which is the antidote for fear, which is the driver of all of the division among us.
Cultivate an attitude of gratitude, and perhaps we can move forward in a direction we can all live with.