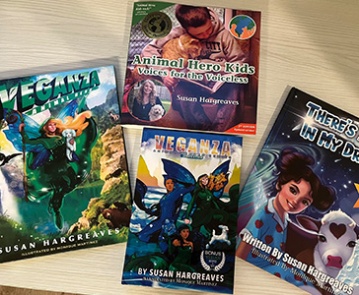 Why not grow two plants with one seed? Choose engaging books, and help both animals and the planet, when you choose gifts this year. Humane education is a vital component to grow kindness. It is a long-term solution to apathy and cruelty.
I created the "Be an Animal Hero" project to include all ages in our messaging. A variety of empowering books are gifted to school libraries after every free, humane education program I present. The Animal Hero Kids Inc. charity never charges for books in schools, institutions or group homes.
Empathy fostered can be a powerful step to kindness and understanding. We need more compassion for all. I am constantly on the search for the animal lifesaving jackpot, even though I have been inspiring kind actions since 1980 when I began activism and animal rescue.
Original heartwarming books for all ages
"Animal Hero Kids Voices for the Voiceless"
A Skipping Stone Hon or Award-winning book that is like an encyclopedia of how to help all species of animals, yet the beautiful color visuals throughout the book illustrating the heartwarming stories make for an easy read for all ages.
The Veganza Animal Heroes Series "Veganza" – The first Veganza book featured two vegan super she-heroes, Veganza and Courage. This children's picture book takes us to a forest world where animals are rescued, and young people become animal heroes. Lovey, Veganza's four-legged family member was inspired by Susan's rescued dog who lived to a healthy age of 23.
"Veganza Animal Heroes – Liberation"
Veganza, Courage and Freedom are a trifecta of formidable plant-powered superheroes in this graphic novel where the superheroes face their biggest challenge yet in this exciting saga.
"There's a Cow in My Dreams" A delightful story about a courageous child named Olivia and a young cow named River. Together, they begin a new adventure to change the world. Get ready to have your heart strings pulled and your imagination inspired.
Every one of the books listed above also has bonus vegan tips and recipes!