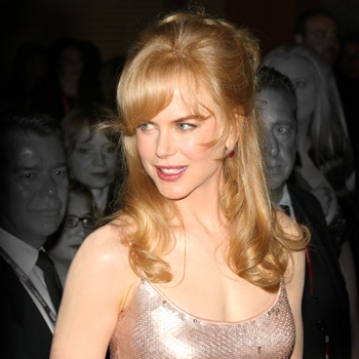 Australian born Nicole Kidman has quite a resume, including Australia, Bewitched, The Interpreter, The Stepford Wives, Cold Mountain, The Hours, Moulin Rouge!, Eyes Wide Shut, Practical Magic, and To Die For. In many of her movies, she has appeared with multiple handsome leading men. Interestingly, four of these men have starred in Batman movies: Michael Keaton (My Life), Christian Bale (The Portrait of a Lady), George Clooney (The Peacemaker), and Val Kilmer (Batman Forever). Nicole considers her character of Dr. Chase Meridian in Batman For ever as someone who "is attracted to the darker side of life." Does Nicole have a dark side like her character? Perhaps not a dark side, but a bit of madness: "To be an actor you have to have a certain amount of madness in you. That's why, when people meet you and you seem very together, they are quite surprised--they don't see you behind closed doors. . . I love working with people who are inspired and obsessive." Perhaps this is why she gets along so well with her best friend Naomi Watts, another beautiful inspired Australian actress.
As the first Australian actress to win the Best Actress Academy Award, Nicole remains humble. After receiving a star on the Hollywood Walk of Fame in January 2003, Nicole joked, "I've never been so excited to have people walk all over me for the rest of my life." "What a sense of humor!
When reflecting upon the acting profession, Nicole has said "you look at somebody's work as an actor and you can see their emotional life being fed into it and you can kind of feel them through it. That's far more interesting than anything I could say about where I'm at or who I'm with. It's good to have a little distance. If you discuss your love too much, it just damages it." Paparazzi mania was one of the reasons why her wellknown relationship with Tom Cruise ended. During their marriage, Nicole joked "I wouldn't want to be married to me, but luckily he does." Love has many meanings and apparently not wearing high heels is one display of affection. Let me clarify: Nicole is nearly 5' 11" so she gave up her high heels when in appearing in public with Tom because she is 4 inches taller. Following their divorce, Nicole explained "My life collapsed. People ran from me because suddenly it was, 'Oh my God! It's over for her now!'" She and Tom might no longer appear in photos together, but they continue to share custody of their two adopted children: Isabella Jane Cruise (born December 22, 1992) and Connor Antony Cruise (born January 17, 1995). Despite public scrutiny following the separation, Nicole kept her sense of humor by proudly flaunting her height on the red carpet and commenting, "Now I can wear heels." Indeed, Nicole is rarely seen on the red carpet without high heels these days.
Following her separation from Tom Cruise in 2001, Nicole commented that the split "left me very fragile but I'd love to marry again... I'm a person that carries everything that happened to me in my past, with me into the future. I refuse to let it make me bitter. I still completely believe in love and I remain open to anything that will happen to me." Luckily, her hopes came true when she married Keith Urban in the St. Patrick's church in Manly, Australia in 2006. The humanitarian couple asked wedding guests to donate money to humanitarian organizations in lieu of wedding gifts. Two years after the wedding, the couple gave birth to daughter Sunday Rose Kidman Urban in Nashville, Tennessee. How did the couple create such a unique name? Kidman has said Sunday is the couple's favorite day of the week because it can be both lonely and happy depending on whether "you've got your family" around. They also found inspiration in Aussie art collector Sunday Reed. As for the middle name, it is a tribute to Urban's grandmother, Rose. Who doesn't love a happy story?
Nicole sees life as an opportunity where everything happens for a reason. She asserts, "regrets are ridiculous, so I don't regret, no." After going down a rocky road of relationships, she expressed how "It's a very brave thing to fall in love. You have to be willing to trust somebody else with your whole being, and that's very difficult, really difficult and very brave. . . I believe that as much as you take, you have to give back. It's important not to focus on yourself too much." Sounds like she is a true romantic and realist!
Up next is Rabbit Hole, where Nicole stars alongside Aaron Eckhart as a happy couple whose life is turned upside down after their son dies in an accident. The movie is sure to be a realistic portrayal of life's ups and downs. As much as people (myself included) want to focus on the positive side of life, sometimes things happen that are beyond control. We are faced with a choice: become an ostrich by hiding one's head in the sand and remaining stuck, or become a free bird by accepting reality and focusing on moving forward.

What's Nicole up to now?
Just Go with It (Comedy/Romance)
Opening: February 11, 2011
TRIVIA
Irish ancestry.
Her mother Janelle is a nursing instructor and her father Dr. Antony Kidman, is renowned Sydney psychologist famous for his work with breast cancer patients.
Originally cast as Mrs. Smith (before Angelina Jolie) in Mr. & Mrs. Smith.
Was considered for the role of Catwoman.
Dropped out of the role of Katharine Hepburn in The Aviator due to scheduling conflicts.
Frequently does her own nude scenes, declining to use body doubles
Allergic to strawberries and scared of butterflies.
Good friends with Renée Zellweger, Jim Carrey, Russell Crowe, & Meryl Streep
Writes short stories in her free time and hopes to publish them one day.
Ranked as #69 in FHM's "100 Sexiest Women in the World 2005" special supplement.
Listed as the richest Australian woman under age 40, estimated at a worth of $155 million, in Australian business magazine Business Review Weekly (2004).
One of People Magazine's 50 Most Beautiful People (2002, 1999, and 1996).
One of People Magazine's 25 Most Intriguing People of 2001.
E!'s Celebrity of the Year, and Entertainment Weekly's Entertainer of The Year (2001).