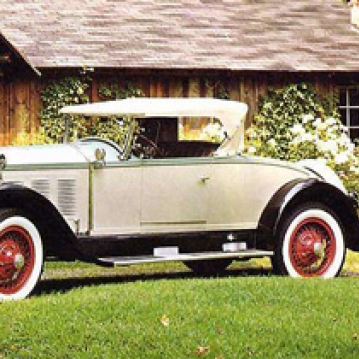 In my previous article I talked about a 1927 Willys Knight Convertible Cabriolet Model 66A and after being in storage for 53 years, she was in need of some minor parts such as water gaskets, exhaust manifold gaskets, intake and carburetor. I came upon the Willys Knight Overland Registry (WOKR) while searching the Internet for any and all information/parts on this vintage vehicle. With every click of the button, I was able to find companies and individuals with gaskets, terminals, wiring harnesses, tires, engine parts, etc. Since this vehicle was not mass produced like the Ford Model A or T, parts are not as easily available... However, back in 1927, many of the supplies were the same, which it made some items plentiful. Unfortunately, some did not even exist anymore.
This did not discourage me one bit. As I began to help the old girl come back to life, I needed to educate myself on the Sleeve Valve Engine. Once I understood the concept of this engine, I became more interested. I needed to pull the fuel tank and the Carburetor off to check and clean any and all old fuel that may have been left in them before I could even try and start it. The tank was relatively clean, but the Carburetor needed some minor cleansing. As I disassembled the Up draft Carter Carburetor, I could not believe that all parts, which where reusable, were made of brass. I did find a great website that had every Carburetor Kit for most Carburetors ever made at a relatively reasonable price along with search by number, year, make, to include photos of the kit itself. www.carburetor.ca.
As I progressed to the electrical portion and gaskets for the car, I was in search for anyone or company that could be of assistance to my needs. Again I found companies willing to go out of their way to exhaust all possibilities in helping. The gaskets I found at Olson's Gaskets. www.olsonsgaskets.com and for electrical terminals, there was Restoration supply parts, www.restorationstuff.com and www.terminalsupplyco.com. I also wanted to see if there might be a company that reproduced any type of wiring harness for this year. I was amazed that there was, not only for this year, but dating from 1928-1959, www.riwire.com . The parts I actually needed arrived promptly and matched exactly to the original parts. The internet once again proves to be a great resource for parts and companies that I would probably have never encountered.
So if you have a vehicle that is in need of parts such as the one's I mentioned above, give them a call or go to their websites. Thanks to them, my Willys is almost ready to roll down the road once again.