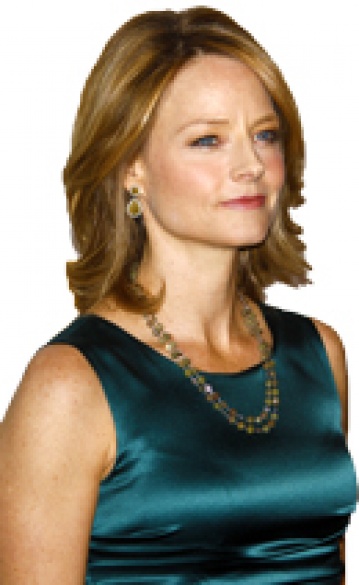 Do you know who Alicia Christian Foster is? Perhaps you know her better by the nickname her sisters coined for her: "Jodie." This nickname stuck, especially since she used it as her stage name when she began acting at age three years old. This early career choice makes sense since she was born in Los Angeles. Her most notable commercial was for Coppertone sunblock. What a classic! Her childhood was filled with acting roles on various television programs, followed by her controversial movie role as a twelve year old prostitute in Taxi Driver. She reflects on her preparation for the role as Iris the child prostitute: "I spent four hours with a shrink to prove that I was normal enough to play a hooker. It was the role that changed my life. For the first time I played something completely different. But I knew the character I had to play - I grew up three blocks away from Hollywood Boulevard and saw prostitutes like Iris every day." Despite the controversy regarding the role and her pre-pubescent age, she earned an Oscar nomination for her performance. Looking back on the movie, Jodie believes it "it's one of the finest films that's ever been made in America. It's a statement about America. About violence. About loneliness. Anonymity. Some of the best works are those that have tried to imitate that kind of film, that kind of style. It's just a classic. I felt when I came home every day that I had really accomplished something." Indeed, very performance was quite an accomplishment!
Following this role, she continued her successful career with roles in Disney films in her early teens. At age 17, she enrolled at Yale University and graduated with a degree in literature in 1985. With an Ivy League education under her belt, her priority became developing into a successful adult actress – especially since she was a master child actress! Interestingly, she won her first Academy Award and golden Globe for the role of a party girl who is gang-raped in a bar in the movie The Accused. Despite the awards, Jodie continued to strive to excel because of her passion for acting. She has never wanted to be a person who takes roles simply to get paid: "When people are there to simply do a job they don't have any passion for, those are nearly always bad films." This passion for acting paid off in her next well-known role as Clarice Starling, a young female FBI trainee assigned to hunt down a serial killer in the horror film The Silence of the Lambs. I personally do not enjoy horror films and avoid seeing them at all costs, but this one is such a classic that even I have seen it. The movie not only became a blockbuster hit, but also made Jodie an international star at the age of 28. She won her second Academy Award for Best Actress!
Even with fame and fortune from a successful acting career, Jodie changed her focus to directing. She prefers directing to acting because, "Acting, for me, is exhausting. I'm always more energized by directing. It's more intense to direct. I can pop in and express myself, then pop out again. It's a huge passion for me." What has been her source of inspiration for switching to directing? According to Jodie, "I'm interested in directing movies about situations that I've lived, so they are almost a personal essay about what I've come to believe in." Even though she prefers directing, Jodie is much more successful when she is acting.
Jodie returned to the front side of the camera and stared as a scientist who receives signals from space aliens in the science fiction drama Contact, which earned her a Golden Globe nomination. The thriller Panic Room was another box-office hit, and had the biggest opening weekend for her. Flightplan was another mainstream success about a mother whose daughter disappears on an airplane. Both of these films relate to her role as a mother, because "As time goes on, I will play characters who get older: I don't want to be some Botoxed weirdo." She believes that when women turn 40, "They've lived longer, they're more confident about their choices and they don't have to be hip and cool anymore, which I think is a godsend - you make really bad choices when you are trying to be hip."
Even though she is protecting daughter characters in movies, her maternal instincts transfer into real life for her sons: Charles Bernard Foster, born on 20 July 1998, and Kit Bernard Foster, born on 29 September 2001. "What I didn't realize is how completely consumed I would be by my sons. I didn't know that the rest of my life would become so little a priority." She chooses to devote more of her time to parenting than to acting because, "There's something so pure about the ways boys love you." Aw, shucks! Looks like the successful actress is also a successful mother!
To this day, Jodie is one of the highest-paid and most respected actresses in Hollywood. Perhaps because her philosophy is "Being understood is not the most essential thing in life. . . Normal is not something to aspire to, it's something to get away from. . . It's not my personality to be extroverted emotionally, so acting has been helpful to me. . . If I fail, at least I will have failed my way." She explains how recently, "I've learned something in the last few years that I really didn't know about myself as an actor. I basically learned how to stay happy. It's important for me to be happy working or I feel resentful. I don't like it. I hate myself. What I know now is that I really need to love the director. I need him to be a good parent. And then I will lie down on the train tracks for him and go to the ends of the earth for him."
What's next for this multi-faceted, inspirational lady? The family-friendly movie The Beaver is opening in theaters on March 16, 2011.
TRIVIA
As a child, was attacked by a lion and carried briefly in its mouth while filming Disney's Napoleon and Samantha.

Enjoys kickboxing, yoga, karate, aerobics, and weightlifting and collects fancy kitchenware and B&W photos.

Loves organic food.

Her favorite book is "Franny and Zooey" by J.D. Salinger.

Her favorite actress is Meryl Streep.

Her favorite actor is Robert De Niro.

Ranked #4 in VH1's list of the "100 Greatest Kid Stars"

Listed as one of twelve "Promising New Actors of 1976" in John'Willis' Screen World

Graduated in 1980 as the class valedictorian from the private academy Lycée Franšais in Los Angeles.

Youngest host of Saturday Night Live until Drew Barrymore hosted in 1982.

Chosen by Empire magazine as one of the 100 "Sexiest Stars" in film history (#45) (1995).

Was supposed to be commencement Speaker for Smith College in Massachusetts, but eventually had to decline (2000).

Was named one of the 50 Most Beautiful People by People Magazine in 2002.

Ranked #18 in Empire (UK) magazine's "The Top 100 Movie Stars of All Time" list (October 2007).

Ranked #30 on EW's The 50 Smartest People in Hollywood (2007).