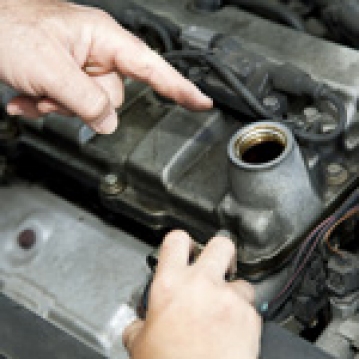 On many occasions, I have customers bringing in their vehicles because their oil cooler lines begin to leak and cause oil stains in their garages or driveways. Many service centers like to replace the entire lines and if purchased from the dealer, they can cost in the area of approximately $129.00 for both. Some Service Centers prefer to use OEM parts. In some cases I agree. I have found some after market companies that sell the lines for as little as $20.00 each. Two lines are required per vehicle. At this price it helps make the cost of the repair less painful. Since I have never used the after market lines, I am not able to testify on their quality.
I prefer to remove the old lines and replace the original hose portion with another hose of higher quality and use compression type fittings. That way if it was to ever fail again, removing the line is not necessary, you only need to remove the hose portion. The cost for the labor is less, as is the cost for the hose portion and you are able to continue to use the original metal portion of the lines.
I have had great success with this type of fittings. I have also used this type of repair for the Air Condition lines on my father´s 1971 Cadillac. For this year, the AC lines are a long one piece and extremely expensive. It is very difficult to remove the AC lines on this year. By using the compression fittings and just replacing the hose portion, it saved quite a bit. It also makes the reassembly a lot easier and less time consuming. The cost for the hose portion from a Hose and Fittings repair store is around $17.00 per hose. I know that the cost is close to the after-market lines, but this way I have a higher quality hose. You just need to make sure you tighten the compression fittings all the way, or they may leak. I have replaced many cooler and AC lines using this method and so far, no returns.