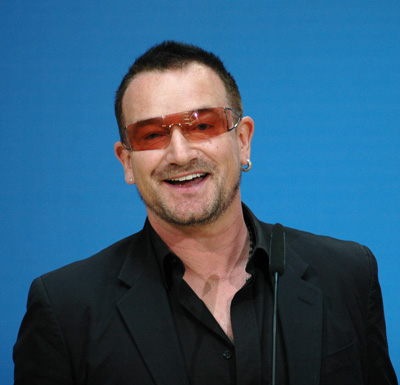 Bono, who was named, Paul David Hewson, was born in Dublin, Ireland on May 10, 1960. He is the leader of the band U2, perhaps the biggest music act in the world since the late 1980s. His stage name comes from Bono Vox, a hearing aid retailer. Bono Vox is Latin for "good voice." He is the only person in history, who has been nominated for an Oscar, Grammy, Golden Globe, and for the Nobel Peace Prize.
The band U2 formed in Dublin in 1976. It consists of Bono, lead singer and songwriter; The Edge, lead guitar, keyboards, vocals; Adam Clayton, bass guitar; Larry Mullen Jr., drums. The three members who strongly identified themselves as Christians (all except Clayton) decided to pursue and promote the band's career in a manner that would be consistent with their religious beliefs, which are heavy on social action. Theology professor Eugene Peterson says the band has, "Little patience with media-driven aspects of the Christian religion and a church and culture that shows little concern for justice and poverty and sickness." Bono and U2 take prominent stands on human rights issues, expressed through their lyrics, public statements and actions. Sometimes, I learned, the band gets upset with Bono but he knows, "The band mouth off and complain but they support me." Bono has been nominated for the Nobel Peace Prize and received the rank of Chevalier dans l'Ordre de la Legion d'Honneur (Knight in the Order of the Legion of Honor) from French President Jacques Chirac on February 28, 2003.
"The world is more malleable than you think," Bono acknowledges. "We can bend it into a better shape. Ask big questions, demand big answers. It would be wrong for me to say, 'Yes, we can change the world with a song.' But every time I try writing, that's where I'm at. I'm not stupid. I'm aware of the futility of rock & roll music, but I'm also aware of its power." The band's popular 1983 song "Sunday Bloody Sunday" commemorated the slaughter of innocent civilians during the Irish troubles. It called for a renunciation of violence, a sentiment that resonated greatly with the people of Ireland. Throughout the 1980s the band used this song to campaign against the Irish Republican Army's (IRA) efforts to raise money to fuel continued armed conflict. The IRA sent a threat to U2 that if they continued their campaign they would be kidnapped. The band continued anyway.
The band's 1984 album "Unforgettable Fire" was named after paintings made by the survivors of the Hiroshima and Nagasaki atomic bombs. The album's songs "Pride" and "MLK" were both tributes to the modern-day leader they most admire, Martin Luther King.
U2 were major participants in the historic and seminal "Live Aid" concert of 1985, which raised funds for relief from a severe drought in Ethiopia. The band was seen by many of the 1.5 billion people who viewed the concert on live television, and Bono's unscripted leap into the crowd captured the imagination of all.
"That day changed my life and started me on this incredible adventure," Bono reflects." The possibility that our generation could be remembered for something other than the Internet ... the first generation to eradicate extreme poverty ... I want to spend the rest of my life doing that." The more than seventy five performing groups at the concert raised some $250 million for the charity. In the months following Live Aid, U2's record sales skyrocketed and have never come back down. In 1986 the band headlined a promotional tour to support Amnesty International, and the effort reportedly tripled the organization's membership. U2 continues their work for charity and social action. Bono has become prominent in efforts to end poverty and seek relief from AIDS and promote trade for Africa.

"Overcoming my dad telling me that I could never amount to anything is what has made me the megalomaniac that you see today and let me tell you," Bono adds, "It costs a fortune to look this trashy." Yet, he has become quite celebrated for his efforts. Apart from music, he often finds himself publicly hobnobbing with presidents and finance ministers to promote these charitable ends. Along with his wife Ali Hewson and New York designer Rogan, he created the high-fashion casual wear line called "Edun" (which is "nude" spelled backwards and pronounced Eden). It was designed as a socially conscious company to support developing countries. Bono admits, "I represent a lot of people [in Africa] who have no voice at all... They haven't asked me to represent them. It's cheeky but I hope they're glad I do."
U2 was inducted into the Rock and Roll Hall of Fame in 2005. By that year they had won twenty two Grammy awards, a historic record surpassed only by Stevie Wonder and they were the fourth band to appear on the cover of "Time" magazine. The others were The Beatles, The Band and The Who.

While pausing to reflect on his gifts, Bono recognizes that, "U2 is sort of song writing by accident. We don't really know what we're doing and hlep. when we do, it doesn't seem to help. When I write, it's there. There's no staring at a blank page. We're are delighted, of course, that people are finally owning up to being U2 fans." May this month be as rewarding possible. Take time to reflect on what as what you truly care about and then… go for it!