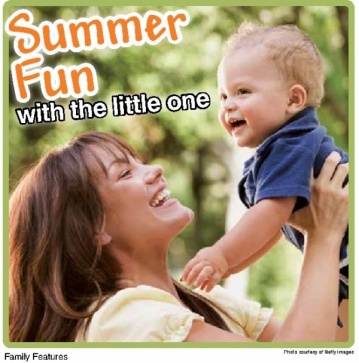 The warm weather has finally arrived and parents everywhere are looking to make this summer one for the memory books. Summer always seems to fly by, with work, chores and family vacations taking priority throughout the warm months. In order to take full advantage of everything the season has to offer, Huggies is helping Moms and Dads beat the heat with a variety of fun and easy summertime activities.
From taking indoor activities outside to summer style and starting a garden, the options are endless. Whether it's baby's first summer or they're a seasoned warm-weather expert, make it the best summer yet.
1.Take family activities outdoors Whether it's family dinners on the patio, reading baby's favorite story under a shady tree, or stargazing at night, remember to get outside and enjoy the beautiful summer weather with the family.

2.Incorporate summer styles Huggies is helping little ones achieve the perfect denim-clad summer wardrobe by bringing back Huggies Little Movers Jeans Diapers. From play dates to strolls around the neighborhood, this denim accessory is perfect for any summer look. Not only will babies be rocking the hottest summer fashion, but they will also be helping diaper a baby in need. Moms can share their support by uploading a photo of their little one sporting the fashionable denim diaper at www.Huggies.com. For each photo uploaded or photo "liked" Huggies will help a baby in need by donating to Every Little Bottom.
3.Just add water It's important to keep cool while enjoying a day outdoors in the hot summer sun. Think about breaking out the baby pool, sprinkler or hose, and incorporate bubbles or buckets for extra fun.
4.Keep it simple As little ones become more active, summertime is the perfect opportunity to break out the blanket and head to a favorite outdoor spot. Even simple games like "Peek-a-Boo" are more exciting in the summer breeze.
5.Enjoy fresh air Embrace the outdoors and enjoy fresh air with nightly walks around the neighborhood. The temperature will have cooled down, and babies often fall asleep to motion.

6.Introduce texture Introducing a baby to the many fun textures of summer is important to the growing senses. Whether it's sand, grass or finger paint, the opportunities to expand baby's experiences grow greatly in the summer months. Try walking in a park, playing in the sandbox or touching garden flowers.

7.Summer outings Packing a diaper bag and getting outside helps to make the most of summertime. Whether it's a stroll around the park or a visit to the local zoo, a day out of the house can be fun for the whole family. If these places are within walking distance, try to resist the urge to drive and break out the stroller for a refreshing walk.
8.Take full advantage of holidays There are plenty of great summer occasions to bring the family together and celebrate. Take advantage of the warm weather and take the party outside. From neighborhood cookouts to family parties at the park, outdoor holidays can create fond summer memories.

9.Start a garden Find a small part of the yard and buy seeds for easy-to-grow vegetables, herbs and fruit. Little ones will enjoy the dirt's texture and they will absolutely love watching the garden grow right in front of their eyes.
10. Sing, dance and laugh Break out the music and entertain little ones with singing and dancing in the yard. This is a great way to stimulate a baby's imagination while allowing them to do what they do best, wiggle and bounce to the beat. Laughing and giggling helps create an unbreakable bond between parent and child.
To learn more about Huggies Jeans Diapers and obtain other tips on enjoying the amazing ride of parenting, visit www.Huggies.com. To learn more about how you can give to babies in need visit www.EveryLittleBottom.com.