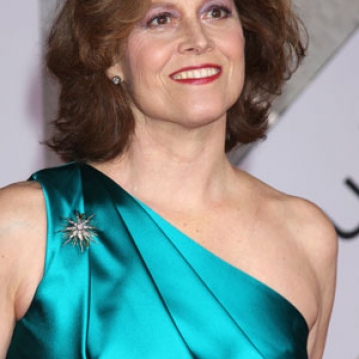 Susan Alexandra Weaver goes by the name Sigourney, because she was inspired by the character Sigourney Howard in Fitzgerald's The Great Gatsby. Despite being teased for her height in private school, she landed a starring role in the school drama production of "A Midsummer Night's Dream."
After graduating high school in 1967, she lived on a kibbutz. Two years later, she studied English at Stanford University. Sigourney stayed true to her acting roots by participating in school plays. In 1969, the Yale School of Drama accepted her. However, she was once again ostracized as a result of her height. Unlike classmate Meryl Streep, Sigourney was pigeon-holed into roles as prostitutes and old women. Sigourney jokes, "I think I get sent the roles Meryl's not doing." Underneath her humor is a small sense of disappointment: "I've lost a lot of roles because of my height. I'm 6ft 3in in heels. Producers are short and I was never their sexual fantasy. As for actors, if I enter a room and an actor stands up then immediately gets self-conscious and sits back down, I hear myself saying, 'This job isn't for me'. I once offered to paint my shoes on my bare feet to get one part because it made me appear shorter."
Sigourney remained resilient and would not let her height stand in her way – pun intended. After finishing her studies in 1974 with a resume filled with a handful of plays, she began to seriously pursue acting. Like most actors, she appeared in commercials and soap operas before people noticed her in Woody Allen's Annie Hall. Her seconds of fame continued after the film, because she later appeared in Madman and the Alien quadrilogy – perhaps best known for the latter role.
1983 was a big year for Sigourney: she went to Cannes with co-star Mel Gibson, presented her dad (NBC-TV executive Sylvester "Pat" Weaver) with an Emmy, suffered the loss of her suicidal uncle, and met her future husband. Her resulting mixed emotions are a prime example of life's ups and downs. Balance is essential for work and family.
In addition to the mega-hit Ghost Busters, she portrayed Dian Fossey in Gorillas in the Mist. On the complete opposite spectrum, she portrayed a power-hungry corporate executive in Working Girl. After building a strong work resume, Sigourney took a break from the spotlight to build her family. In 1990, shortly after giving birth to her daughter Charlotte Simpson, she returned to the spotlight.
After starring alongside Kevin Kline in the political comedy Dave, Sigourney starred in the thriller Death and a Maiden. She returned to the comedy scene as a sexy con artist alongside Jennifer Love Hewitt in Heatbreakers. At age 60, she reunited with director James Cameron by landing a major role in his top box-office hit Avatar.
What keeps this ageless actress going? Perhaps a mixture of humor, beauty, talent, and hard work. Sigourney jokes, "I've always regretted having such a serious career because I'm really more of an idiot." She is also strong-minded, which is not always accepted in Hollywood because, "if you are a man and speak your mind openly, you're considered a man in full. But, if you are a woman and do the same, you're nothing but an annoying bitch." Sigourney has a bohemian mentality: "I don't have ambitions, I believe in taking what comes. I have that philosophy about life in general. I go in and try to transform it into the best it can be." So where is her next transformation? The movie Abduction.