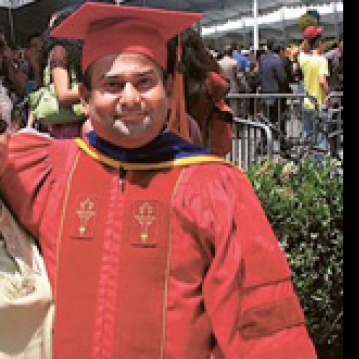 When people remember heroes they think of the people who have done something memorable and helpful for many. But, there are heroes who are not mentioned in the history books such as Vasundhara Ramanujan from Dubai. When her son Aditya was diagnosed with chronic kidney failure at 15 years old, she had a life or death decision on her hands.

Dhananjay and Aditya are Vasundhara's two sons only 1 and a half years apart in age. When Aditya was 12 years old, he was suffering from a congenital defect known as ureteral reflux. This condition allows urine in the bladder to reflux into the ureters, and back to the kidneys. Numerous infections follow, and over time lead to scarring of the kidneys, and ultimately to kidney failure and the buildup of toxins in the bloodstream. Initially, Aditya was misdiagnosed with these problems, which lead to progressively bad health and ultimately kidney failure.

In 1996 Aditya was experiencing the worst of what life had to offer. At 15 years old he needed to receive dialysis treatment 2 to 3 times a week for three to four hours at a time. This procedure entails the body being hooked up to a machine that cleans the blood and does the function of working kidneys.

"We were confused and did not know what to do. When faced with such a situation, one believes he's the first person to get this condition. The doctor talked to us about the important role of proper diet. Not wanting to let the problem creates a breakdown in our lives, we began to follow the doctor's advice of keeping a check on blood pressure and be compliant with medications. With changes in Aditya's his life, our family's lifestyle went for a complete change," said Vasundhara.

There is no worse pain for a mother than to see her child suffer. Vasundhara knew she matched her son's donor type, and the only immediate way to save him would be to give one of her own kidneys. In the midst of keeping up with Aditya on a day-to-day basis she did not notice her own body was attacking her at that very moment.

"We were watching X files on TV and I realized one of my breasts was harder then the other," said Vasundhara.

When she went to the oncologist, he was surprised that she did not notice her condition sooner. Vasundhara explained she had been dealing with her own son's health issues 24 hours a day. She told him how she needed to give her kidney to her son, but unfortunately the doctor said it would be unsafe to give him the kidney until she was cancer free.

"My goal was fixed. I had to give the kidney. I went into surgery. Within twenty days of the surgery I went back to work. Took the chemotherapy and radiation treatments. Everything was on our checklist" said Vasundhara, "There was no other choice. I had to get well and donate my kidney to my child. I owed it to him, it was my duty."

It wasn't until 3 years later in 1999 Vasundhara was able to donate her kidney to her son who just graduated high school. The operation was a success and Aditya carried his mother's kidney for 6 years until he fell ill and lost the function of his donor kidney.

"Give a lot of understanding and encouragement, you don't need sympathy, you need understanding," said Vasundhara.

In 2009, her elder son Dhananjay would give his kidney to save his brother's life. Their father Raghavan could not donate his kidney because he has diabetes. Now both brothers ages 30 and 31 live in the United States and Canada. Aditya finished his masters in IIT, Powai and took a doctorate in Physics from University of Southern California.

"I'm a free bird now after 15 years of our lives," said Vasundhara.

Now Vasundhara is 59 years old, cancer-free, and she still has her whole family together after many years of uncertainty. This year she has come out with her own book called Shades of Life that chronicles the past 15 years of her and her son's struggle to live.