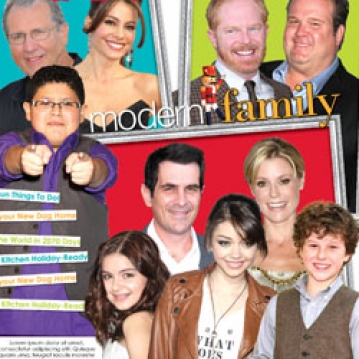 A former stand-up comic and National Lampoon columnist, I love things comic, like I love things cosmic. That's why I don't watch network sitcoms; they're unfunny.
Except for Modern Family. Sharply written, deftly acted, smartly directed, and paced like the great '30s screwball comedies of Ernst Lubitsch, Howard Hawks, and Frank Capra, it ranks among the top 25 funniest American sitcoms ever in my mind.
The show is ahead of its time, hardly a surprise, as it was co-created by Christopher Lloyd, the maniacally manic Doc in the Back to the Future trilogy, and the irreverent Reverend Jim in Taxi, also in my top 25. The show envisions a future when average Americans are comfortable attending gay weddings or seeing a Medicarerecipient hitched to a Colombian bombshell nearly half his age. Warren Littlefield, NBC-TV's former top programmer, said that Modern Family does what The Cosby Show did decades before: namely, "examining the family, but it's a family we haven't seen before."
The Post Modern Family Modern Family has garnered 11 Emmys over the past two seasons— including best comedy series. The jokes have more teeth than Julia Roberts; some have sharp satiric bite, but nobody is mean-spirited, like Archie Bunker, Maude, or Taxi's dispatcher, Louie.
When I was the single digit age of the show's Luke Dunphy, three percent of my classmates lived in a "broken" family, having fallen victim to the then-only-whispered D word— divorce. TV sitcoms then, almost without exception, featured nuclear families like Leave it to Beaver, Ozzie and Harriet, and Father Knows Best, comprised of mom, dad, and two point something kids. Sixty seven percent of Modern Family's families are non-nuclear. And it's not just America's idea of a modern family— the show also airs in the U.K., Ireland, Australia, and India.

The show is shot in mockumentary style; sometimes characters speak to an offcamera crew. There are the nuclear Dunphys; the gay Cameron and Mitchell and their adopted Vietnamese daughter; and patriarch Jay Pritchett (father of Mitchell Pritchett and Claire Pritchett Dunphy) and his voluptuous Colombian wife Gloria and her son, the wise–beyond-his-pre-pubescent years-metrosexual-in-the-making Manny.
The show is so hip, it's not déclassé for actors with strong comedy chops to "slum" it on a sitcom when it's this sitcom. I'm talking about Broadway giant Nathan Lane; king of irony Fred Willard; stand-up comic David Cross; and former Cheers star Shelly Long.
In 1970, the U.S. Census Bureau discovered that 40.3 percent of American families were nuclear; that number plummeted to 24.1 percent in 2000. I'd bet that 1960 to 2010 comparisons show an even greater gap.
Times indeed are a-changin'. In 1994, the public flipped when straight Roseanne Conner was kissed by Mariel Hemingway's lesbian character in Roseanne. In 2011, a gay couple is raising a girl on the nation's top sitcom.
Years ago, when I was writing sitcom scripts, I studied the plays of Neil Simon, the most successful comedy writer ever, and noticed that his plays' laughs didn't translate when spoken out of context. The laughs were in each scene's moment. Like Eckhart Tolle, who reveals the power of now, Modern Family reveals the comedy of now.
This isn't a show of mainly oneliners, like early Marx Brothers and Woody Allen films, although there are some doozies. When Haley, who doesn't have room in her teen brain for much more than boys, popularity, and texting, asks her Mom, "Didn't I have ADD or something?" Claire responds, without missing a beat: "No, honey, you couldn't A D D. Your teacher put it that way because she knew you also couldn't S P E L L."
When Cameron, on a bar bet, tries to pick up a woman to prove he can charm ladies, asks, "How would she know I was gay?' Mitchell: "Maybe it's the way you order a drink-adoodle-do." Gloating, with a phone number, Cam tells the crew that he'd never be that cool picking up a guy. His literate response: "It's so ironic. Like the gift of the vagi." O. Henry, oh my!
The show stretches censors. Winning his bet—a month without doing laundry—he closes the scene by telling his partner, "And all my shirts get ironed. And the seams should appear straight. Just like their owner." When he lets the woman down, telling her he's gay, he says: "You're the whole package.
I just prefer someone who has one."
What the program is high on are behind-the-back secrets revealed to the crew, which doubles as a kind of unseen confessor. Many laughs come from intelligent humor, terrific comic timing, deadpan deliveries, over-the-top gay excesses, English as a second language, malapropos, wisdom from a 10-year-old boy who shouldn't know so much, and Jay Leno-like "Jay Walking" dumbness from a 17-year-old girl who should. The show is set in an L.A. suburb; instead of smog, irony hangs thickly in the air, but instead of coughing you'll definitely laugh a lot.