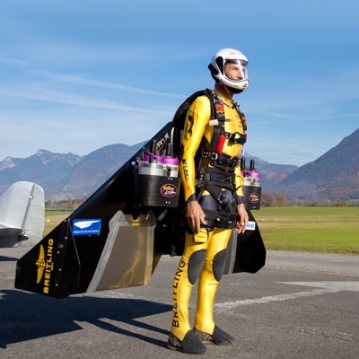 Yves Rossy
"If you dream and you believe, You Can Do It,"
says Puff Daddy.
Dream big and live large on our small planet….
We are all wired for greatness!
Yay, Yves Rossy, for being our happy inspiration this month.
With boundless energy Yves Rossy, also known as Jet Man, inspires others to follow their own unique journey with a "can-do" attitude that anything can be achieved. Rossy, a Swiss pilot became the first and only man in aviator history to fly with a jet-propelled wing in November 2006. After ten years of development and more than 15 prototypes, Rossy used a wing he'd created with four model jet engines to fly for five minutes and 40 seconds. During the flight, Yves's body becomes like a bird and unlike an airplane, Yves does not ride his wings but truly flies them, using various light body movements that he has learned to handle with perfection. He carried only an altimeter and a tiny throttle control.
Since then, Rossy has flown alongside two Boeing Stearman biplanes and circled a hot-air balloon and hurtled over the Grand Canyon. With his latest design he can fly at over 200km/hr at great height. Over 4 million YouTube views to date have witnessed this phenomenal feat and it's no wonder; the human spirit soars when we feel inspired by great accomplishments. As Napoleon said, "All the breaks you need in life wait within your imagination, for imagination is the workshop of your mind, capable of turning mind energy into accomplishment and wealth." Join me as Yves Rossey shares what his imagination created and how becoming the Jet Man has been the fulfillment of a lifelong dream.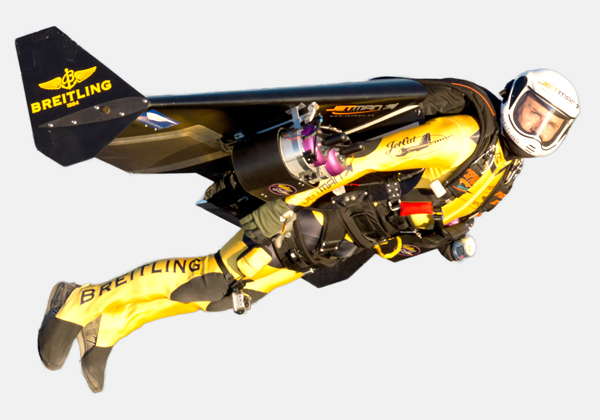 Q&A with Yves Rossy

Q. What inspired you to become the Jet Man?
A. Flying is a passion. I always wanted to fly since I am a child. I became a fighter pilot and worked as a captain for Swiss International Airlines. I had the idea to build a wing when I discover the skysurf. I enjoyed it, but I wanted to keep the same feeling, but with a real flight instead of a fall. I built this wing to realize my dream: to fly like a bird.
My inspiration has always been to realize my dream.
Q. How exactly is the jet-propelled wing designed?
A. The very first wing was based on an aerodynamic model from the Ukraine. It was an inflatable wing, which over the years through trial and error I have modified into a solid wing, which folds out.
Q. How many prototypes did you develop before finding something that worked?
A. I have developed about 15 wings over the last 15 years! The first time I used a wing was in 1992. I have been working on this prototype (the one with four engines) for more than three years and I never stop trying to improve it.
Q. What are the different steps of your flight?
A. I take off inside a Pilatus Porter - I put my wing on my back - I turn my engines on inside the plane - I jump out of the plane at about 2,500 meters
- I stabilize my wing (at about 2,000 meters) - With my fuel lever, I increase the throttle of the engines - I fly for about 10 minutes - When there is no more fuel, I open my parachute and land with my wing.
Q. How are you able to navigate while in flight?
A. I navigate by sight, and steer only with the movement of my body (essentially using my head, shoulders and arms). All I need to do is shift slightly to my right for the wing to move right, etc. The only instrument I have is the fuel lever.
Q. Have you had any close calls in your testing flights?
A. Oh yes, I must have dropped the wing about 20 times! Luckily, every time I have dropped the wing, it has been ok. I let the wing go to become a normal parachutist. My wing has also its own parachute. These problems during flight have already happened and they will certainly continue to occur. But I do not take unnecessary risks.
Q. What are you next plans?
A. My first aim is to keep on optimizing my wing. I wish to create a new prototype with much more powerful engines that will give me the freedom to fly in three dimensions! Vertical flight, be able to perform aerobatics. The idea is to have as much thrust as weight. That would be total freedom! I would also like to put in place a new parachute system that would let me fly as low as 200 meters, as right now I open my chute at 800 meters. I would like to let my friends try out the wings! I want to share my invention so that we can eventually fly in formation with several wings. After that, I want to explore all the potential the wing has because the potential is enormous. I have gone down this road and I do not want to stop. I love what I do.