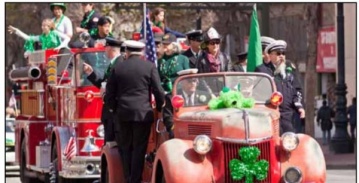 Sat., March 17th 44Th Annual St. Patrick´s Day Parade & Party
Delray Beach
The Annual Delray Beach St. Patricks Day Parade pays tribute to our nations Firefighters. Delray Beach will be hosting thousands of firefighters and their families from all over the United States!!! Join us at the THE FIRE FIGHTIN" IRISH ST. PATRICK'S DAY PARADE to salute the brave fire fighters from across the country for the 44th Annual St. Patricks Day Parade. For forty-four years, on the Saturday before St. Patrick's Day, the streets of Delray Beach have turned green as we have hosted the largest St. Patrick's Day Parade in Florida,drawing more than 100,000 attendees to the greenest partying town in Palm Beach County! 11:00am to 7:00pm. at Downtown Delray Beach, FL. FREE. Phone: (561) 279-0907
Friday, March 23rd Pilobolus
Lake Worth
Pilobolus began as an experiment among three guys and one puzzled professor in a Dartmouth dance class back in 1970. From these humble, biological beginnings has emerged an innovative, unlikely and almostuncategorizable dance company that combines athleticism, grace and humor with a profound sense of unity. Their smooth, organic choreography -- featuring unusual partnering and lifts -- often blurs the lines between individual performers, creating a sense of dance-troupe-asorganism. , 8:00pm Tickets $39. 4200 Congress Avenue, Lake Worth, FL 33461. 561-868-3309, www.duncantheatre.org.

March 7th - 18th Festival of the Arts BOCA 2012
Boca Raton
"This Festival has truly evolved into a one-ofa-kind cultural celebration, bringing the best in music, dance, film and ideas to South Florida," said Charlie Siemon, Festival Chair. "From a showing of Casablanca - an all-time classic – with live orchestra - to an evening of operatic favorites that have inspired the sound tracks of movie masterpieces, this year's program will reflect a bit of Hollywood glamour." www. festivaloftheheartsboca.org / 561-368-8445 at the Mizner Park Amphitheater and the Cultural Arts Center

Through March 18th AMERICAN TREASURES Masterworks From the Butler Institute of American Art
Boca Raton
One of the most ambitious exhibitions in recent SoFla memory is now running at the Boca Museum of Art (501 Plaza Real, Boca). It´s called "American Treasures," presents a selection of significant and noteworthy examples of American art and artists from the nineteenth to the late twentieth centuries. On loan from the Butler Institute of American Art, the collection showcases two centuries of American art and the many styles and genres found therein. The exhibition comprises 36 works representing a virtual who's who of America. "American Treasures" runs through March 18; admission is $6 to $14. Visit bocamuseum.org for more info @ Boca Raton Museum of Art, 501 Plaza Real, Boca Raton, FL 33432. Every week Tues through Sun.
Saturday, March 31st JDRF Walk to Cure Diabetes
Boca Raton
Companies, Families, Organizations and Schools; Join JDRF for it´s 16th Annual Walk to Cure Diabetes in Boca Raton at Mizner Park Amphitheater! Enjoy a 2 mile Walk throughout downtown Boca Raton, music, entertainment, children´s activities, vendors, and complimentary breakfast and lunch! Even well behaved dogs on leashes are welcome! Register today at www.walk.jdrf.org or bring a donation the day of the Walk. For more information, please call 561.686.7701 or email greaterpalmbeach@jdrf.org! 8:00am to 11:00am at Count de Hoernle Amphitheater (formerly Mizner Park Amphitheater), Boca Raton, FL. All Donations are welcome!
March 17th & 18th Hatsume Fair
Delray Beach
Celebrating the first bud of spring, The Morikami´s largest annual event, Hatsume, transforms the normally tranquil Morikami Park into a unique Japanese spring festival. Hatsume Fair features three stages with continuous entertainment including taiko drummers, a Japanese tea ceremony, flower arranging, martial art demonstrations, bonsai and orchid demonstrations, and much more. Also included are avenues of artisan booths, plant sales, Asian and American food vendors and children´s activities. Morikami Museum & Japanese Gardens. 561-495- 0233, www.morikami.org
March 22nd - 25th Palm Beach Boat Show
West Palm Beach
The 27th Annual Palm Beach International Boat Show, March 22 - 25, 2012, is one of the top ten boat shows in the country featuring more than $350 million worth of boats, yachts and accessories from the world's leading marine manufacturers. It is truly an International Show. The event includes hundreds of Boats from 8 foot inflatables, power boats, fishing boats, center consoles, bow riders, personal watercraft to superyachts over 150'. Show entrances will be located at Evernia St./Flagler Dr. (waterfront) and North Clematis St./Flagler Dr. (waterfront). For more info please visit: http://www.showmanagement.com/palm_beach/event/