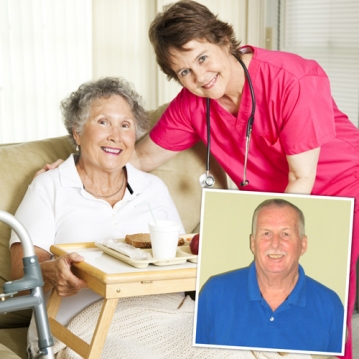 There are many careers in this country that only require people to show up on time, do their job, and go home at the end of the day. This would not be satisfactory for Robert Pittinger. At Hospice by the Sea, Bob goes far beyond his regular managerial duties to assist patients and their families.
One day, Bob was on his day off from work enjoying a nice family picnic with loved ones. Out of the blue, he received an emergency call from one of the critically ill patients. All she wanted was to have a better view of the flower garden, but a hedge was blocking the way.
Bob could have easily called a staff employee to attend to the job, but he felt it was his own responsibility to take care this woman. When he arrived, he cut a hole in the hedge so the patient could see her view.
His work wasn't done there, he generously put in extra time to help another patient. Bob personally paid for a satellite system, assembled it, and then he sat down with the gentleman to watch a game of football. Both of these patients' wishes could have gone unattended to, but Bob would not let that happen as long as he was working for hospice.
After 10 years of devoted commitment to Hospice by the Sea, Bob and seven other employees received the Senior Achievement Award presented by the American Health Association. Only these select few have shown they not only care about their job, but they have demonstrated important leadership skills influencing the quality of life for patients and families.
"I'm very honored to be nominated for this award, but even more honored to be working for such a great organization doing the work we do," said Bob.
Paula Alderson, President and CEO of Hospice by the Sea recognized how lucky they are to have Bob as part of their team.
She said, "the amount of time and effort he puts into keeping Hospice by the Sea safe and running well, day and night, is most appreciated. We are so proud of him and most grateful for his dedication as an employee and a volunteer."
Since 1978, Hospice by the Sea has helped more than 100,000 patients and families by providing top of the line health and therapeutic care for Broward and Palm Beach counties.
Patients can feel at ease knowing they have Robert Pittinger around to give outstanding service and comfort. His efforts are a guide to future health care providers, who are looking to follow in a great man's footsteps.