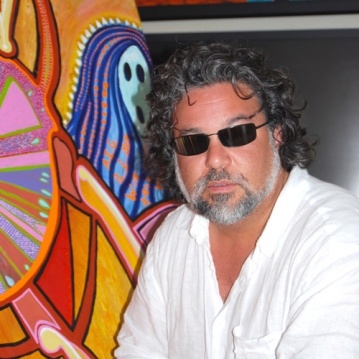 "In a world where what a celebrity wears , or doesn't, makes headlines, I realized that a journalistic void needed to be filled, to insure future generations grasp the reality of our existence, in this era of revolutionary change." An innovator, sometimes called, "radical", Vaca created Modern Art Gonzo Journalism, by fusing Hunter S. Thompson's Gonzo Journalism with the cryptic art-style of subliminal messages in works by icons like Dali and Picasso. The artist who shares his birth name, Victor-Hugo, with the historic French revolutionary, was inspired by works like Picasso's "Guernica" revealing the tragedies of war and Dali's "Paranoiac-Critical method".
"Art is history. Art is life. "Victor- Hugo says. "From the cave paintings of Lascaux in France to the art left behind on walls of the ancient city in Pompeii, Italy, we can assess the human condition of our ancestors, by studying the images created by artists."
With a journalistic background and education, the artist FOX News calls, "The Modern-day Andy Warhol", set out to edify the masses by painting news stories often overlooked by mainstream media outlets. Modern Art Gonzo Journalism, through Vaca's work, creates a diary of the world on canvas, illustrating events that influence the evolution of modern civilization.
Throughout history, artists have been visionaries who celebrate humanity and circumstance through unique interpretations. "As an artist", Vaca explains, "my job is to paint what I see; the beautiful chaos that propels life forward. It is up to investigative journalists and government agencies to do their job by following up on the clues I have put into my paintings." His Modern Art Gonzo Journalism series has appeared in newspapers, on television shows and in movies.
Vaca's own conviction to ethics, placed him in the midst of controversy and danger, converting his circumstance into an award- winning short film inspired by his paintings. Based on actual events, the movie, produced, directed and written by the talented multi-media artist, has gained an underground cult following, now being made into a major motion picture series, entitled, "Redemption: The Story of the Crackhead Jesus Trials". True to the mission of The Modern Art Music Movement, which he founded, Art, Music and Film are natural partners of expression.
Vaca's work can be seen by private appointment at his Hillsboro Beach Studio and at exhibitions around the world. For more information email GlobalMarketingAlliance@yahoo.com to opt in for schedules.