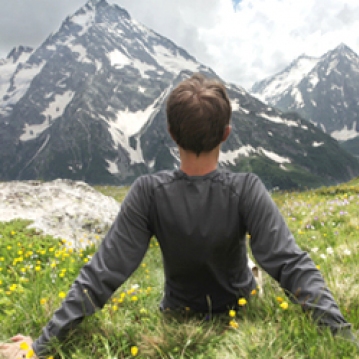 Creation acts upon the everlasting possibility that anything that is thought of, can be. Consider some of the numerous great inventions, which we take for granted today: airplanes, electric lights, telephones, television, fax machines, computers. They're all the result of creative ideas by individuals who ignored the ridicule they encountered while they stayed focused on possible rather than impossible. In other words, a sense of the possible grows in the fertile terrain of the active side of infinity.
I have here in my writing space a wonderful account of four children who refused to allow the word impossible into their hearts:
Eddie was born without hands or feet. At age five, he went to South Africa and saw a mountain he wanted to climb; he climbed it in three hours. And at age 13, he decided to play a trombone. He sees no reason why he shouldn't achieve whatever he sets out to do. He lives on the active side of infinity, consulting that world of infinite possibilities.
Abby was desperately ill and needed a heart transplant. When she saw her mother crying, she told her, "Mommy don't cry, I'm going to get better." At the 11th hour, a heart miraculously became available, and Abby is better. Abby's intention came from that world of infinite possibilities. It's the active side of infinity where intentions manifest.
Stephanie was five years old when she came down with meningitis and had to have both of her legs amputated. Today at age 12, she rides her own bicycle and has dreams that go way beyond those of most teenagers who possess all of their limbs. Her personal slogan is: Push to the limit.
After two major heart operations while just a toddler, the doctors told little Frankie's parents that they could do no more. Frankie lived only because she was on a life-support machine. When her parents were advised to have the machine turned off because Frankie couldn't survive and would only suffer, they finally agreed. But Frankie survived. She was somehow on the active side of the world of infinite possibilities. The caption beneath her photo says it all: You didn't think you could get rid of me that easily, did you?
The power of intention involves staying on the active side of infinite possibilities. George Bernard Shaw, who was still creating into his 90s, has been quoted as saying, "You see things as they are and you say, `Why?' But I dream things that never were, and I say `Why not?" Think of Shaw's words as you practice staying on the active side of infinity and seeing the infinite possibilities that are available to all of us.