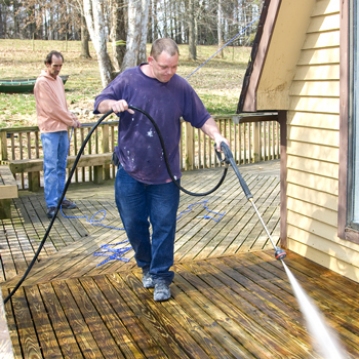 Q: I need to sell my house but I can't afford major changes or improvements. What would you suggest I do to help sell the house.
A: Since I don't know your address I will make general assumptions. 1st is the old adage of "location, location, location". This is still a major concern of buyers – distance to work, shopping, schools, surrounding neighborhood, etc. Let's assume your neighborhood is suitable and relatively well maintained. The 1st concern is the general "curb appeal". Does it need painting? Is the landscaping in good condition? Are repairs needed that are obvious? If you have an asphalt driveway, does it need resurfacing? All the above are D.I.Y. projects. If you have a swimming pool: is it sparkling clean; is the tile shiny bright; is the filter clean? If you have a screen enclosure, are all the panels OK? Next, let's consider what the interior looks like. Again, freshly painted rooms show better. The color must be neutral. Are there any areas that need repair – for example is there a depression in the drywall caused by a door knob? If so – spackle and sand the dent before painting and install a door bumper stop on the door. Check all your doors for bumper stops. Does the door hardware need polishing? Are your light fixtures up to date? Could you use a dimmer switch in the dining room? You get the general idea. An important item I think helps considerably is to remove extra furniture. The rooms look larger when the furniture doesn't overwhelm the space. Also, store all your personal items such as pictures, collections on display, etc. Store all those magazines you keep. In other words, keep all the rooms tidy and neat. Next you must give your home a cleaning like it has never had before! Especially the kitchen and bathrooms. No stains on the sinks, toilet or tubs; clean windows, mirrors and ceramic tile. Again, in the kitchen, store all those appliances so the countertop looks expansive and clean.
Generally, each item mentioned above, if not corrected, can decrease your sale-ability.
Make a list of items that need attention; project a time when you will have the work done or when you can schedule yourself to do the work and, if you need to hire a contractor, make sure he is licensed and insured.