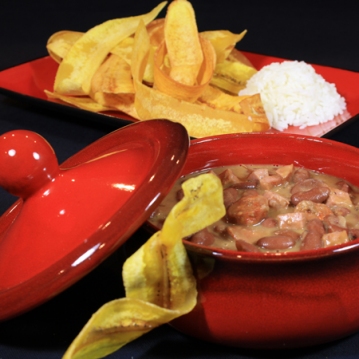 (4-6 servings) Ingredients:

This robust casserol is delicious and full of protein, calcium and iron. It can be prepared a day in advance, which intensifies the flavor and consistency.

16 oz. (1lb) Ground chuck
1/2 Onion finely chopped

3 Cloves garlic, minced
1 Tbsp finely chopped fresh flat-leaf

3 1/2 Tbsp Extra-virgin olive oil
Kosher salt and freshly ground black pepper

1 tsp Spanish smoked paprika

3 oz. Spanish chorizo, chopped
6 oz. Smoked beef sausage sliced
  1/4 tsp Ground oregano

1 Bay leaf 2(13 oz. ea.) Canned red kidney beans, drained and rinsed
3 1/2 Cups chicken stock
1 Tbsp Ketchup
 1/2 tsp Brown sugar
1/4 tsp Ground cumin

1/4 tsp Hot pepper sauce (optional)
Preparation:
1. Place the ground beef in a bowl, add the salt, the black pepper, 2 Tbsp of olive oil, the parsley, and half of the minced garlic. Mix very well with a fork.
2. In a medium saucepan heat the remaining 1 1/2 Tbsp of olive oil, add the onion, the remainig garlic and cook for 3 minutes, until softened.
3. Add the paprika, reduce the heat to low, and stirring with a wooden spoon, cook for a few seconds. Add the chorizo, sausage, oregano, bay leaf, turn the heat to high and cook for 2 minutes.
4. Add the ground beef, and stirring, cook for 8 minutes. Meanwhile, heat the chicken stock.
5. Add the beans to the saucepan with the beef, stir in the chicken stock and bring to a boil; check the salt and pepper. Turn the heat to mediun and cook for 10 minutes, or until the beans are tender.
6. Add the ketchup, the hot sauce, the sugar, the cumin, stir well and taste the salt and pepper. Turn off the heat and let them stand for 20 minutes. Serve with rice Pilaf and plantains.