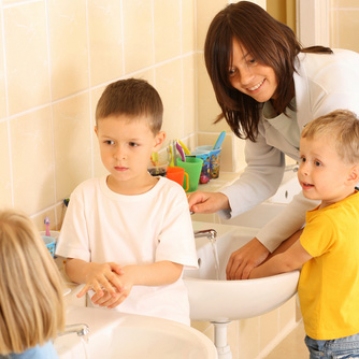 Shadid Kurubacaq noticed a problem surfacing in her fourth grade classroom recently. Her students were misbehaving on their visits to the hall bathroom. "I noticed that certain class members were being silly, making loud noises, and getting each other wet in the bathroom," she told us recently. "I decided this problem needed to be solved and figured the best way to do that was to present it to the students. I called a class meeting, figuring we could find a solution together while giving my students one more experience with using a solution-seeking process."
She began Step One of this process by sharing her own perceptions of the situation. "I am concerned that some of you are not using your quiet voices in the bathroom," she began. "Also, some of you have not been respecting your classmates' space with your hands or with water. I am concerned that someone could get hurt. In order to keep all of you safe, it is important to continue to respect one another when we are outside our classroom walls. In addition, we are disturbing children in nearby classrooms who are attempting to study."
After sharing her perceptions, Shadid moved to Step Two and asked the students to share their own. They agreed that disruptive behavior had been going on in the bathroom. Several students cited incidents that had occurred recently. A couple of them wanted to name specific people. "When in these solution-seeking sessions, I prefer they tell me about behaviors and not about classmates," Shadid said. "I refocused them on the behaviors we were concerned with and the problem we were working to solve."
At this point, Step Three, she and the class redefined the problem and wrote the definition on the chalkboard. It stated, "Help all of us remember to be respectful in the bathrooms."
With the problem visible to all, Shadid moved to Step Four, brainstorming possible solutions. "This is often a difficult part for them," she told us. "They want to blame and/or punish. The fourthgraders suggested: Let them lose their bathroom privileges and make the problem kids go alone. I tell them I am not interested in blaming, only in finding a solution."
The teacher wrote their solutions on the board. The suggestions included: sending one person at a time to the bathroom; sending only a few; tapping the person being disrespectful on the shoulder and reminding them of appropriate behavior; and having students take a checklist of bathroom rules with them and check off the ones they did.
During Step Four, Shadid often has to remind her students not to evaluate the suggestions. The emphasis here is on the quantity of ideas produced. The goal is to generate as many solutions as possible without evaluating them.
During Step Five the teacher and the class reach agreement on which one or combination of solutions they think will work. They don't talk about which ones are good or bad. They concentrate instead on what will work for them. In this case, students chose to go with tapping the person on the shoulder as a reminder if they are getting too loud or disrespecting someone's space. The students then role-played that solution in front to the class and debriefed the practice session.
The fourth-graders then made a commitment as a class, Step Six, by giving a quick thumbs-up if they were willing to use this solution. All thumbs were up. A date was set to evaluate the solution to see if it was working. That date was written on the board as a reminder of when they would get back together to evaluate their efforts. "If the solution solved the problem, we can invest a few minutes congratulating ourselves for finding a solution that worked," Shadid said. "We could feel powerful, part of a powerful group. Better than that, we would feel like a powerful solution-seeking group. If it didn't work, we would go back to the drawing board and create some more possible solutions. The lesson here is that we don't always solve the problem with the first attempt. But we never give up searching for solutions."
The entire process, which was observed by the principal of the school, took twenty-three minutes. Children learned:
To see themselves as solutionseekers.
To search for solutions rather than fix blame and punishment.
To use their own power in helpful ways.
To engage in possibility thinking. To listen to others. To speak up for themselves. To self-evaluate. To work with others and be part of a group.
We know how this story ended. We choose not to tell you. Instead, we provide two possible endings, one of which really occurred. You can decide for yourself what you think happened to Shadid Kurubacaq.
Ending 1: When the art teacher was working with Shadid's class, the principal called Shadid into his office for a meeting. She was informed that the class solution-seeking session took too much time and that she could have saved precious time by simply giving her students a solution and following through if they didn't use it. The threat of losing bathroom privileges would have been sufficient to get them to behave. She needed to spend more time getting them ready for the state tests.
Ending 2: When the art teacher was working with Shadid's class, the principal called Shadid into his office for a meeting. She was informed that the solution-seeking session was a classic example of a Spirit Whisperer in action. She was told how moved he was by the skill and precision she used in helping students feel empowered. She was informed of how appreciative he was of the way she shared control and simultaneously stayed in control of the entire process. He wondered if she would be willing to communicate that process to her colleagues during a staff meeting. He said he would soon be writing a letter to the board of education suggesting a $2000 bonus for her because of her skill and commitment to students. He gave her the rest of the day off and covered her class while Shadid spent a beautiful spring day working in her garden at home. Two weeks later a check for $2000 arrived in the mail.