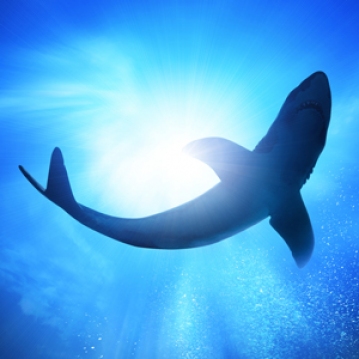 This is a story about my 16 year old daughter, an avid Shark enthusiast and conservationist and a story about our world and what is happening in it. My daughter freely gives up any spare time to speak to anyone who will listen about the plight of sharks and the dangers we humans may be facing. Scientists right now are predicting that if the ocean continues to be overfished as it is right now, our oceans could come to a standstill in the year 2048. Is only 36 years from now. Are we willing to leave this kind of legacy to our children and their children? Sara, my daughter, started a not for profit charity last summer. Sara loved sharks from a very young age, she was always fascinated by them. Several years ago our family went to the IGFA in Dania Beach when we saw the movie "Sharkwater" by Rob Stewart. It was deeply moving and very profound. We walked out of that theatre crying. It was so sad to see how sharks are being treated. Cruelly hauled up out of the water, their fins cut off while they are alive and then thrown back in to the ocean to slowly drown. It is simply horrible.
There is no doubt about it, sharks have a bad reputation. Why, because who can see a 18 foot fish with rows and rows of teeth as being cute and cuddly and worth living when there are cuter things to love and embrace like dolphins and polar bears. You might think without sharks there will be more fish, but in actuality the opposite is true.
I know of two reports right now where because sharks are missing due to shark finning, there are no fish in one place and no scallops in another. This is affecting the livelily hood of people working in this industry as well the economy.
Sara turned sixteen last December. I wanted to throw a really special sweet sixteen party for her. She asked me instead to take her Shark Diving. She loves to dive with sharks and her first dive with sharks was in Key Largo at Captain Slates, with nurse sharks. She has dived with eight different shark species in the Living Seas at Epcot in Orlando. White tip reef sharks in Fiji, Grey nurse sharks in Sydney, Australia and Caribbean reef sharks in the Bahamas. She coined the name "shark whisperer" from her first shark dive, where she could not stop hugging, holding, petting and even kissing the sharks. A woman on the dive, seeing this, said to Sara "I have never seen anyone with sharks like you were with them". She said she thought the sharks were "drawn" to Sara, as if they knew how much she loved them. She will be going to Isle of Guadalupe in Mexico to cage dive with great whites with the legendary Stan Waterman for his 90th birthday. Stan Waterman is an inspiration to Sara and she holds him in very high regard.
Sara had a booth at the recent Wyland organic green festival last year at Mizner Park in Boca Raton, she reached so many people and was educating them about shark myths and realities. She also raised $250.00 to donate to shark researchers and shark saving organizations such as "shark savers". Sara has also joined a program called YEA – Young Entrepreneurs Academy – a 33 week long program where kids are taught how to run their own business or charity. At the end of the program they are given the opportunity to make a presentation in front of a board of investors with a small amount of money to give to the businesses and the charities. Sara received a donation of $1,500.00 which was the largest amount donated. She also had a shark advocacy week at her school. In four days she raised more than $2500.00.
Sara worked and is working with many different shark friendly charities donating her time and money she raises to them, entities such as FAU Elasmobranches' Dr. Steven Kajiura, University of Miami's RJ Dunlap Marine Foundation and Dr. Gruber's Biminis Biological Research Foundation, Shark Savers, Florida Keys Community College, United Conservationists and more. Sara recently gave an hour lecture to the students at her school, Boca Raton Preparatory and educated them as well. She was recently appointed the Florida Youth Leadership Ambassador for Shark Savers and she teaches the Shark Counts program and can teach this to local divers so they can help with research for their organization.
Sara also recently was invited to attend the Florida Keys Community College Shark Expo and was given a table at the event where she sold chocolate shark lollipops, shark cupcakes, and shark brownies and raised $160.00 for the FKCC foundation. The key note speaker for the event was Fabien Cousteau, Jacques Cousteau's grandson. Sara and a few select divers were able to get to know Mr. Cousteau a little better while diving the Vandenberg wreck and Sara spoke to Mr. Cousteau about her charity and he commended her on her efforts.
Sara has spent her time going door to door asking for people to sign petitions for the recent banon hammerheads and tiger sharks in Florida. Sara presented more than 150 signed petitions to the Florida Wildlife commission at the meeting in Dania at the IGFA and Sara was there for final meeting where the law was passed to turn in more than 350 additional petition signatures and she spoke in front of the crowd there as well. She was the youngest one in attendance.
Sara's career goals have never wavered. She wants to earn a PhD in Marine Biology with a specialty focus in Shark Biology, she also wants to be able to teach people how to get their scuba diving license and she is currently doing a sports performance program at her school where she has an internship at local dive shop, Dixie Divers. She and the owner, Pavan Arltan are working on Shark Whisperers next petition, creating no take zones and marine sanctuaries for Dade, Broward and Palm Beach counties. Sara will also be learning to fly amphibious ultra light aircraft when she is 17 so she can do shark research from the air as well.