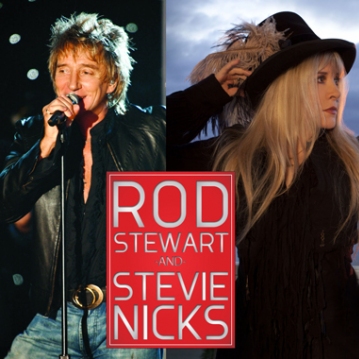 If you missed the 2011 Heart and Soul Tour, the love fest between Stevie Nicks and Rod Stewart, you're in luck! They will be traversing the country and arriving in south Florida at The Bank Atlantic Center on Saturday, August 4, 2012 at 7:30 p.m.
"I couldn't be happier to be back on the boards with Stevie this summer," says Rod Stewart. "We had fantastic fun on the road together last spring and I'm thrilled at the chance to bring it to new cities and fans this summer."
Stevie Nicks says, "I had a great time last year on the road with Rod, he is really fun to work with. I am very excited to join him again this year."
Legendary rockers Rod Stewart and Stevie Nicks are celebrated by both fans and critics alike. Stewart and Nicks first joined forces in the spring of 2011 for their acclaimed "Heart & Soul Tour." US Weekly called the show "magical," with a set list that "sparked non-stop cheers from the sold-out masses," and the Boston Globe declared "Stewart & Nicks make a classic combination" delivering sold-out audiences a "hits-packed night of crystal visions and reasons to believe."
In a career spanning five decades, Stewart has amassed an estimated 250 million in album and single sales and an incredible 16 Grammy nominations. He also joined the list of artists who are two-time Rock and Roll Hall of Fame inductees – as a solo artist and as a member of the seminal 1960s rock band the Faces. Nicks is a multi-Grammy Award winner as a solo artist and member of the legendary Fleetwood Mac and a Rock and Roll Hall of Fame inductee. Her new CD "In Your Dreams" was deemed by US Magazine as "the best album of Nicks' four decade career."
Rod Stewart may not be "For ever Young," as one of his more famous songs suggests, but my sources tell me in fact, he just may be forever fantabulous! At 66, the veteran rocker is the consummate crowd pleaser and glides effortlessly across a stylish stage. Stewart and Stevie Nicks of Fleetwood Mac perform a three-hour concert packed with classic hits, good vibes and plenty of nostalgia.
I just love nostalgia, especially when it comes to rock and roll, concerts, a good night out and superb entertainment. What are you doing this month? How will you spend your free time? With the dog days of August upon us…let's remember to let our own hearts and souls sing out loud, enjoy the company of others, play, swim and smile!