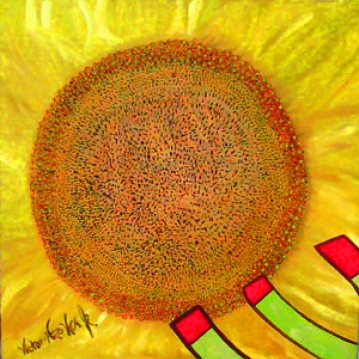 "Blue skies
Smiling at me
Nothing but blue skies
Do I see"
Irving Berlin - Blue Skies lyrics
The brilliant blue South Florida skies against the azure Atlantic waves and lush verdant landscape makes us feel good just awakening in this paradisiacal palette.
Color has a wavelength, a frequency that evokes emotions and feelings and sometimes is so compelling it spurs us to action. We are conditioned by certain colors: yellow reminds us to take pause and exercise caution while red grabs our attention and stops us in our tracks. Having a very long wavelength, the color red makes time appear to pass more slowly. Casinos use red lighting to keep patrons playing longer while cities use blue streetlights are employed to reduce crime. Colors can be active or passive; gray being the latter with an active color such as red causing a feeling in the wearer as well as a reaction by the perceiver.
All of the colors printed in the newspaper you hold in your hand, or are seeing online, are made up of four colors: Black, Cyan (blue), Magenta and Yellow. Imagine all of the colors in the spectrum made up of small dots. If you take a magnifying glass to the photos, you can actually see the tiny pixels combining for the full effect.
Artists and Interior Designers use certain colors to achieve a desired effect. Red is a favorite among Contemporary Painters evoking extremes of emotion such as passion. The light greens used in a hospital evoke healing, growth and regeneration as mirrored in nature. The way in which green hits the eye requires no adjustment making it the color of balance. The yellows in this "Sunflower, Homage to Van Gogh" by Maverick Artist Victor-Hugo Vaca Jr cannot but make one feel joyous. Yellow is the strongest color psychological color lifting our self-esteem and imbuing optimism. Mixed here with orange, this painting gives us a sense of comfort and abundance. And gold of course reigns sovereign in any country.
Look around you at the paintings and décor with which you surround yourself. Feel the vibrational levels. Your mood can be lifted through the pleasurable colors of art, the greenery of plants and the serenity of water. As my 1 year old grandson Sebastian wisely proclaimed in his first sentence: "Be Happy!" What is your favorite color?
For 35% of Americans it is blue, followed by green, purple and red.
Carl Jung used color in his psychotherapy and referenced mandalas and the work of great artists such as Picasso.
Feel "in the pink", put on that "little black dress" and hit the "red carpet"! "Nothing but Blue Skies from Now On".
Christine Alfonso is an Art Curator residing in Hillsboro Beach, Florida. Her firm, Global Marketing Alliance provides Sales, Marketing and Public Relations support for a variety of companies in tourism, music and the arts. Co-director of The Modern Art Music Movement, Christine is dedicated to compassionately sharing a beautiful world.
VISUAL: "Sunflower: Homage to Van Gogh" by Maverick Artist Victor-Hugo Vaca Jr