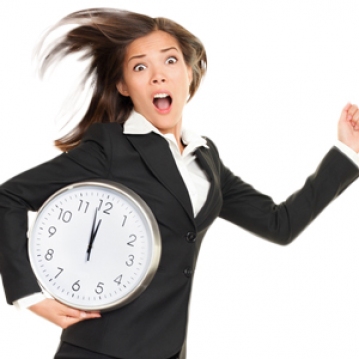 Think in terms of minutes rather than hours. Make every minute count. Move faster in everything you do. Pick up the pace. Develop a sense of urgency and a bias for action. Move quickly.
When you get in to the office, don't wait until the coffee is ready. Get to work.
And when you start work, work all the time you work. Don't drop off your dry cleaning, pick up your laundry, or go shopping. Work every minute and every hour.
Make a decision to earn the reputation as the hardest-working person in your company. Don't tell anyone about your decision. Just make sure that, when anyone looks at you, you are working full blast. You don't take breaks or waste time. As far as you're concerned, this is not playtime. It is work time. If someone says, "Have you got a minute to talk?" say, "Sure, but not right now. Right now I have to get back to work!"
The best time to see key decision makers is before and after normal working hours. This is especially true with successful entrepreneurs and company owners.
The reason they are at the top is because they start earlier and work later.
We hope you enjoyed the articles and ask you to support Happy Herald by referring clients to us. We offer Advertising, Direct Mail, SEO, Website Design, Social Media and