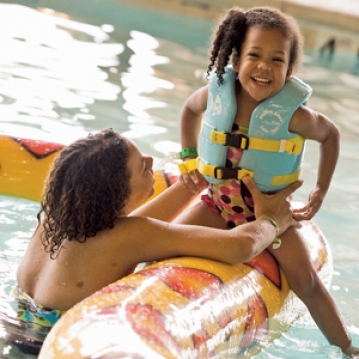 Families are always looking for ways to enjoy vacation time together that maximizes fun, while minimizing the budget. To help your family reduce costs on summer travel, use the following tips:
Plan ahead. While spontaneous weekend getaways sound fun, the best way to save vacation dollars is by planning ahead. Keep in mind most resorts offer the greatest variety of available room options, package amenities and overall savings when stays are booked further out in advance.
Book online. Websites allow vacation planners to easily view best available rates, compare alternate dates for travel, room styles, amenities and package plans. If you have a destination in mind, sign up to receive the location's newsletter, which often includes discounts and special promotion codes via email. Many sites, like www.greatwolf.com, also feature online chat assistance.
Find the cheapest gas. The free smart phone app, GasBuddy, can help not only estimate how much you'll spend, but can also direct you to the cheapest gas stations along the route. Fuel Finder, another gas saving app, shows gas prices throughout the U.S. and Canada, and also features a mapping system. Visit www. GasBuddy.com and www.bottlerocketapps. com/apps/fuelfinder to learn more.
Prepare the car. Purchases from your local grocery store are cheaper than convenience stores and fast food restaurants en route, so save time and money by pre-buying snacks and drinks.
To learn more about planning a vacation with great value for entire family at one of the ten Great Wolf Lodge resort locations in the U.S., visit www.greatwolf.com.