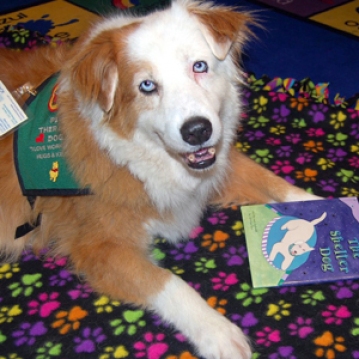 We never know how long we may have with the special animals in our lives. We take a chance, and tempt fate, when we open our home and heart. Whether it's a year, ten or even 100, it would never be enough. Some friends and even family members don't understand when our pets depart. "It's just a dog", they might say, "You need to get over it". "It's not like you don't have others". "Just go out and get another one".
From the moment I spotted him online, we connected. Mack was in Texas. Long before we physically met, he became a part of me. Or, maybe he was always here.
Overcoming serious neglect and abuse in his early life,he set examples to live up to: Take a chance. Push yourself. Forgive the past and free yourself. He spoke volumes with his blue eyes, expressions and his feathery golden plume of tail.
Life with Mack was blissful. He loved his pack mates, "the AusSiebelts" and comforted many fosters. He nudged me not to overanalyze; sometimes you just need to lie in the sun. He helped me to become a better dog mom, rescuer, and ultimately, a better human being. His reach extended far beyond our household. He excelled at being a therapy dog. It was his life's mission.
Renowned through out Palm Beach and Broward counties, it never went to his head. He appeared in a production (five shows and three dress rehearsals) of "Annie". Mack amazed us, yet he maintained his gentle, kind spirit, a Buddha-like presence; a true canine ambassador.
We were gifted with ten years, one month and nine days. His body became his prison. After all he gave to so many; I could not rob him of his dignity. With my trusted vet, we freed him from pain and confusion. It comforts me that he is so loved and fondly remembered by so many.
I won't say I lost my heart dog. That would be saddening and dishonors the blessing of having him in my life. He is with me, always.
So, to those who love animals, as I do: Focus on the gift of time, however long or short it may be, of all the wonderful blessings in your life. There are other kind souls who understand the pain of saying goodbye. And know, for sure, love never dies.