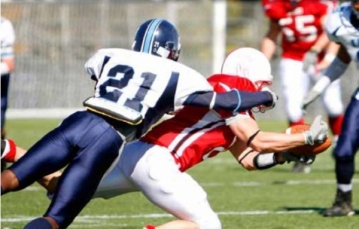 As the calendar turns to Fall, our collective passions and blood pressures will quicken. Lost friendships will be renewed, garish clothing will again become in style, and it will be very hard to schedule any birthday parties, anniversary celebrations, or weddings on the weekends.
Why?
It's football season or as a friend of mine once remarked, the start of our social season. And with good reason. For as much as we cheer the world champion Miami Heat, hope the Marlins, Panthers and other teams around the state do well, when it comes to changing our collective moods, nothing even comes close to football.
Don't think so? Check out a Monday when the local team, or even the team you cheer for, is victorious. Win and all is well: You smile more often, walk with a spring in your step and even tolerate the bad drivers of South Florida. Lose and it's hide the wife (or husband) and kids. Chores are ignored, workouts skipped, and tempers grow short. You see, while most of us enjoy the sporting calendar year, when September rolls around, we get serious in Florida, and we've got plenty of football story lines to keep us occupied.
For fans of all three professional football teams, new coaching staffs arrive with new hope, but face old challenges. In Tampa, Greg Schiano brings his college-style enthusiasm and organizational skills to a club in desperate need of them. In Jacksonville, new skipper Mike Mularkey tries to invigorate a franchise and fan base beaten down by years of losing and irrelevancy; so much so, there was real fear the team would leave town; new ownership has, at least, temporarily quieted that talk. In Miami, head man Joe Philbin faces the hurdles of meddlesome ownership, skeptical (but still passionate) fans and, oh yeah, arguably, the toughest division in the league.
College fans are psyched, as well.
UM head man Al Golden hopes to revive the championship spirit of the "U" in Tallahassee, Jimbo Fisher fields a pre–season Top 10 squad, while over in Gainesville, 2nd year man Will Muschamp tries to rebound from last year's disappointing 7-6 campaign. As I have learned when I first moved to Florida, college football in the South is king in the small towns. Dotting the landscapes between Washington, Nashville, Miami and Dallas there are countless places that live for Saturday afternoons and nights, where the most important place in town is the high school football stadium.
So, buckle up for a four-month roller-coaster ride unlike any other. just remember to keep the wings hot and the beer cold.
Let's kick it off!