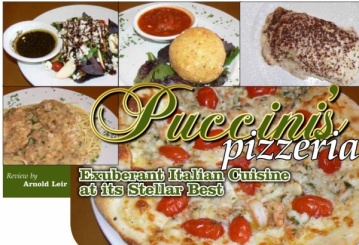 Delray Crossing near the intersection of I-95 and Delray's
Linton Boulevard is where you want to be when you are looking for fabulous Italian fare. High above a landscaped arch you will see, in bold letters, Puccini's Pizzeria, a name that will resonate in your psyche long after your first meal.
The main dining room is light, airy and filled with vibrant murals that are as soothing as they are charming. The polished floor echoes the blond tone of the furniture and cozy booths arranged in neat rows. A portion of the restaurant features an open kitchen which merrily hums with the aromas of pizzas, calzones and strombolis.
General Manager Dean Primavera provides a menu which is colorful, easy to read and filled with an appealing range of popular and signature Italian specialties. There are contemporary touches, such as the chicken wings offset by the rarely encountered Arancini starter ($6), a crisp rice sphere endowed with a savory center and paired with a delectable marinara.
The presentation of the Staggioni Salad ($13) is as exhilarating as the combination of ingredients. A fragrant cap of gorgonzola and clusters of walnuts enlivened by a superlative aged balsamic sits over a bounty of mixed greens, tomatoes and cucumbers. Wafers of fresh apples hug the base of the salad to provide a fantastic freshness and lively crunch. The house-crafted balsamic dressing provides another level of heightened excitement. The range of salads is just as intriguing as the list of appetizers.
Even the pizzas have a brilliance and inventiveness that point to a kitchen which possesses a mastery of colors, as well as flavors. The transcendent style of the staff comes across loud and clear in such masterpieces as the small Shrimp Scampi ($15).Tender crustaceans sautéed with garlic and white wine form a haunting topping with the aid of cherry tomatoes. The effect is peerless. There is no better scampi anywhere.
The art of balancing colors, textures and flavors continues in established favorites such as the Veal Francese ($17). The satiny medallions of veal sautéed with awesome precision deliver flavors that mesmerize the palate. A base of al dente linguine infused with a fragile sauce demonstrates once again the ingenuity of this kitchen.
A refined wine (Due Torri Pinot Grigio) and a great beer (Jai Lai IPA) are certainly the ideal accompaniments for this exquisite cuisine. Sweets exhibit the same panache. The exuberance of the silky Tiramisu ($6) energized with touches of espresso and rum call for frothy cappuccinos quickly provided by delightfully obliging staff.
Early Birds can enjoy the best for less from 4 to 6:30 p.m. Half-priced wine and two for one drafts are available from 4 to 7 p.m. For catering, ordering online. For more information about Puccini's Pizzeria, log on to www.PuccinisPizza.com
PUCCINI'S Pizzeria
(Tel) 561-665-8777
1100 Linton Boulevard, Delray Beach, FL Lunch and dinner