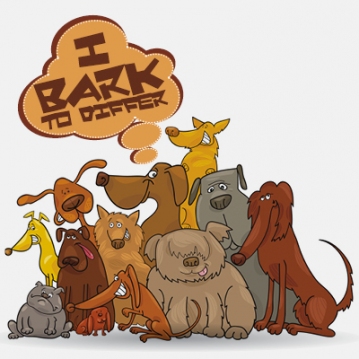 "My dog is just like a person, my little fur-person," she stated. Avoiding rolling my eyes in response, it got me thinking, how dogs enhance the human experience and who is really training whom?

I'm not sure whose idea it was, but ever since a wolf shacked up with a caveman to aid each other in the hunt, dogs have been assisting us. They are at our sides, on drug, military, search and rescue missions; as service, assistance and therapy dogs, and as the loyal companions with whom we share our homes and hearts. But, are dogs like people?

Dogs excel at the lost art of listening. They're never too busy to hear what's on your mind. Facing a challenge? Leash your dog (don't forget bags), go for a long walk and talk. By the time you two return, you'll see things differently. If it's something personal, there's a bonus: Dogs are the best secret-keepers.

Dogs take good notes. A dog leaves its calling card when s/he leaves a deposit. Sex, health, physical size, and desire (season) can be derived from that note. Do a job right the first time, and pay attention to details. You never know who may be watching, or sniffing.

Dogs don't lie. If they are happy, they wag their tails or wiggle their posterior. You might even get a yippy, excited bark. If they are sad, lonely, or mourning, their body language doesn't betray them. Ben Franklin was right, "Honesty is the best policy."

Dogs are not racist/breedist. Approached by a rottweiler, a lady freaked out, "My dog hates them." She affirmed her dog's apprehensive behavior, every time they sighted a rottie. Her dog learned to be uneasy around large, dark dogs. Dogs do not recognize breeds, any more than we can recognize someone's blood type. Judge the deed, not the breed.

Dogs don't foolishly spend millions of dollars campaigning against one another with negative smear tactics. Humans have that market cornered.

Dogs don't discriminate.

Any dog can be improperly socialized or taught to be aggressive. After surviving an unspeakable existence, almost all (47 of 51) Michael Vick's Bad Newz dogs were rehabilitated, rehomed or remain in sanctuary. Several earned their CGC (Canine Good Citizen) title and became therapy dogs. Dogs are quick to forgive and grant second (or third) chances; a lead we all can follow.

Dogs don't plot revenge. Even when a toy or treat is snatched by another dog, they forget about it, quickly. Dogs teach us to free ourselves from the past, and not to put too much thought on the future, it's all about living in the now.

Dogs don't talk back. They never say hurtful, hate-filled things they later regret. Dogs don't drink, do drugs, or text while driving.

Dogs are so much more trainable than spouses and children. Comparatively, cost-effective, too! Dogs don't have a hidden agenda, unless you count getting us to give them multiple treats, with those cute puppy eyes...and we wonder why some pets are overweight?

You never have to wonder what a dog is thinking or will do – if you are astute enough to understand (canine) body language.

Dogs gauge time vastly differently, than humans. Every moment spent together is like hitting the bone-anza jackpot. Visit the mailbox or be gone all day - their exuberant response is the same, "You're back! Great to see you! I missed you so much!" Humans are greedy, a dog's lifetime (10-15 years, if we're lucky) is never long enough.

Dogs know how to indulge. A sunbath, belly rub, tipping over the garbage can, or wriggling in something stinky refreshes the spirit, so just enjoy the moment, and jump right in, before the opportunity passes by.

I know a much loved Parson Russell Terrier and his devoted master. They remind me of "Life is Beautiful" (movie); even though they are homeless, they still have each other. Dogs don't care where you live, what you drive, how much you make or that you are not quite a supermodel.

Your dog thinks you are the greatest – just because you're YOU.

Your dog is "like a person?" I bark to differ.