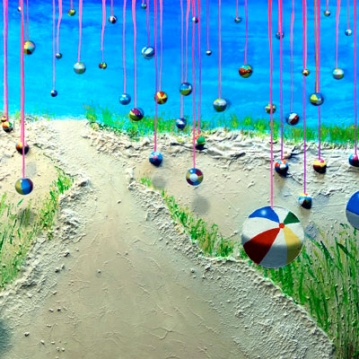 She completed her first painting at the tender age of 5, using simple blues and purples, and a little sand. She called it "Equator," and she hasn't stopped painting since.
While Autumn de Forest has been called a "child prodigy" and an "artistic genius," she doesn't buy into all the accolades.
"All I know is I love to paint. I don't know about all the genius and all of that; all I know is I want to paint and want to inspire other kids to experiment, and I am honored to be in the position I am in," said Autumn, who just turned 11 years old.
Autumn's passion for painting has taken her around the world, turning her into an international, professional artist. She will be displaying her works Nov. 30, Dec. 1 and Dec. 2 at Onessimo Fine Art in Palm Beach Gardens.
A native of Las Vegas, this painting powerhouse doesn't take lightly her position on the world's stage. She has graduated from tiny-toddler simplicity to producing works that mirror one of her favorite artists: Andy Warhol. She said humbly that there are way too many other artists that are bigger than her.
The uncomplicated joy and fun of painting leads Autumn, as she puts it, from "seeing simple things" to creating and mastering her own techniques. A video has been compiled to show her techniques and how she constructs a painting from beginning to end.
Watching the video of a time-lapsed painting on YouTube (created to cure skepticism), you can spy Autumn hoisted above paintings by a bench; such paintings take her almost two months to complete.
Although her parents have encouraged her along the way by giving her art books and anything else she may need, Autumn works independently. "I do all the painting myself," she said. "I do it from my heart."
Autumn's reasons for painting are about as simple as one of her favorite media -- encaustic, which is essentially using melted crayons (colored wax) to create art. While her paintings are selling for hundreds of thousands of dollars, she states quite clearly: "I'm not a money girl. I really paint because I can express myself and experiment with different styles."
As a poster child for art and education, Autumn keeps fighting to keep art in schools. And as accomplished as she is, Autumn is still a kid who supports other children.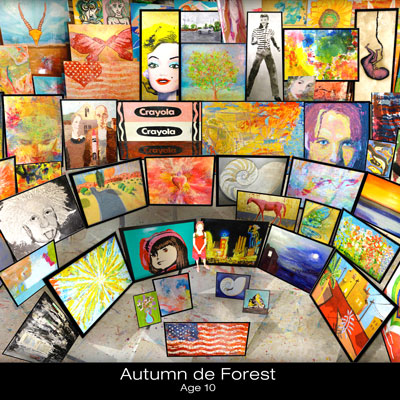 "I want to inspire other kids to experiment with art, although all kids are not artists nor (do they) want to do art," she said. "When I paint, I just have so much fun with it. I go OK, tweak this, tweak that, a little right there.
"I want to change the world for the better. Art is being taken out of schools; I want to help put that back in," Autumn added. "I feel as though it is very, very important, and my message to the world is: 'Anyone Can Do It.' " She's even got a clothing line for boys and girls in the works called Splatter, which will be launched at select Target stores. Autumn got the idea from all of the paint she gets on her clothes.
"I feel they (her clothes) look artistic and look like a painting in themselves, and I thought how interesting would it be to put that in a clothing line," she said.
And now, she's bringing all of this creativity to us here in Florida, with a painting to match.
Autumn has created a painting specifically for Florida titled "Dripping Oranges." It's a "dripping painting because Florida is famous for oranges, and they are sweet and juicy just like Florida," she said.
Whether you describe her as a pint-sized Picasso or a prodigy or an entrepreneur, Autumn is changing the world one painting at a time.
To see "Dripping Oranges" and 80 other paintings, bring the kids to powwow with Autumn at Onessimo Fine Art!
What: Receptions with Autumn de Forest