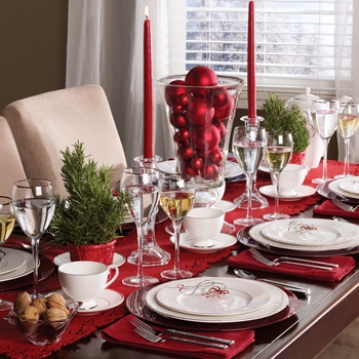 The holidays are about making memories with friends and family. When it's your turn to host, you can set a truly memorable holiday table – without breaking the bank.
Celebrity chef and event planner Travis London of Healthy Chic Eats shares three great ideas for creating fantastic holiday table settings and a great recipe:
Don't be afraid to mix and match.

It's OK to mix patterns and textures because it adds another level of interest to the table. Mikasa offers many different dinnerware patterns that can be easily mixed with each other to create a great look. For example, start with red metallic chargers and add white Cameo Platinum dinner plates and festive salad plates such as Love Story Holiday. Or go for a fun, contemporary look by layering Christmas Cheers Dots and Christmas Candy Cane dishes.
Be creative with table decorations.
Try using what you have in new ways. Fill a Pfaltzgraff Winterberry serving bowl with cranberries, or line a Winterberry platter with pretty votives and evergreen sprigs you snip from the back yard.
For an easy, long-lasting centerpiece, use potted plants.

Many supermarkets sell potted plants at great prices. Rosemary plants make a beautiful and fragrant addition to the holiday table. Try setting out two pots of rosemary wrapped in red foil, then put them on both sides of a glass vase or jar filled with red ornaments.
No matter how you dress your table for the holidays, the food is the real star of the show. This delicious cheesecake recipe from Travis will look good on any plate – and taste even better. For more entertaining tips and recipes, visit www. facebook.com/mikasadining.
Holiday Bliss Low-Calorie White Chocolate and Ricotta Cheesecake
Serves 8-10
Ingredients:
• 12 oz low-fat cream cheese
• 1 1/2 cups fresh ricotta
• 2 tbsp sugar
• 5 oz chopped white chocolate, melted
• 1 lg egg
• 2 egg whites
• 1 tbsp pure vanilla extract
Tip: When serving, use a round mold to create individual portions, or cut slices and top each with mixed berries and a mint sprig.
PREPARATION:
Preheat oven to 325°F and lightly spray a 10-inch spring form cake pan with vegetable oil.
Using a mixer, beat together cream cheese, ricotta and sugar until soft. With the mixer set to low speed, beat remaining ingredients into mixture and mix until completely smooth.
Pour cheesecake mixture into prepared cake pan and place in oven to bake until set, 30 minutes.
Once done, remove from oven and allow cheesecake to cool completely before removing sides.
Place in refrigerator for at least 4 hours to continue to set before serving.