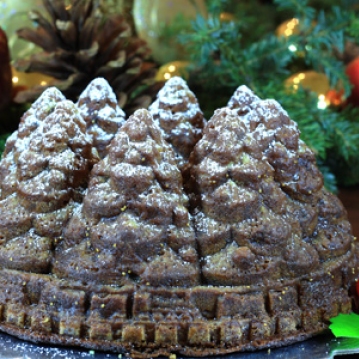 This delicious Christmas Cake is fragrant and flavorful. It is necessary to prepare the fruits 15 days in advance and keep them in the refrigerator. If you prepare double and you have left over, add more fruits, and liquor, then refrigerate in a non-reactive container until the next year. They will be spectacular.

Thank you so much for following me
and for your beautiful emails.
Happy Holidays!!!


INGREDIENTS FOR THE MACERATION
½ Cup Walnuts chopped in chunks
½ Cup Dried Figs chopped in chunks
½ Cup Raisins
½ Cup Dried Dates, pitted, chopped in chunks
½ Cup Fruit Cake Mix
1/3 Cup Dark Rum
1 Bottle Black Beer 12 fl oz.
¼ Cup Honey
¼ tsp Fresh Ground Nutmeg
¼ tsp Ground Ginger
½ tsp Ground Cinnamon
PREPARATION
In a non-reactive container, combine
all ingredients. Keep in the refrigerator
15 days or more before use.
INGREDIENTS FOR THE CAKE
5 oz. Unsalted Butter
¼ tsp Salt
10 oz. Granulated Sugar
4 Eggs
9 oz. Unbleached, All Purpose Flour
1 tsp Baking Powder
1 tsp Baking Soda
2 ½ Cups Maceration
(soaking fruits)
UTENSIL
Cake pan (like the picture) 9 ½ inches round or a tube pan of 10 inches round and 4 inches high.

PREPARATION
1. Preheat oven to 350 F.
2. Bring maceration to room temperature.
3. Coat cake pan with butter-flavored cooking spray, dust with flour.
4. In a bowl, sift flour with baking powder and baking soda.
5. Place butter and salt in a large bowl; beat with a mixer at medium-high until it is creamy.
6. Add sugar and beat until blended (about 5-7 minutes).
7. Add eggs, 1 at a time, beating well until sugar dissolves (about 5 minutes).
8. With a strainer, add a portion of the flour mixture, alternately to a portion of the maceration mixture, and with a spatula, mix very well with round movements, beginning and ending with the flour mixture. Add ¼ cup of maceration juices, mix very well. Pour batter into the prepared pan.
9. Place a sheet of aluminum foil on top of the pan (do not press), in order to prevent it from drying. Place pan with the batter in the oven. After 40 minutes, take off the aluminum foil sheet and bake for 20 minutes more or until a wooden pick inserted in center comes out clean.
10. Cool 10 minutes on wire rack, remove from pan. Cool completely on wire rack. Dust with powdered sugar.