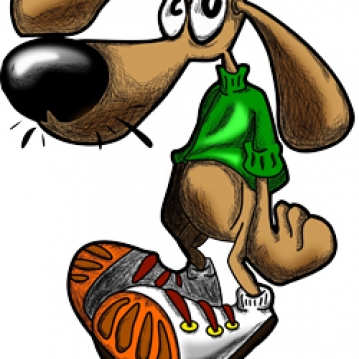 When a stray is found or when a pet is surrendered, their name isn't given. Being involved with numerous rescue groups and animal organizations, I am often asked, "What should we name this dog?"

An appropriate name is crucial in helping the dog find the right new home and start its new life. A name can either spark interest or turn off a prospective owner.

A few decades ago, people would have barked disapproval over bestowing a "people name" on a dog. Common monikers included Rover, Fido, Spot, Fluffy, Blackie, Brownie (guess what colors they were?), Lucky, Duke and Lady. These dogs lived outdoors, never saw a leash, and ate what they could find or were lucky enough to subside on table scraps. Times have changed.
|
Today, if your dog is a Bella, Max, Buddy, Bailey, Kody, Harley, Sadie, Molly, Sophie, or Toby, you can easily be stampeded as you summon your faithful companion. Trainers and behaviorists agree; since most of the names above are two syllables, they are easy for the dog to learn. And by ending in the "e" sound, it seems more affectionate and the sound carries farther. Bella and Max, this doesn't apply to you. (Sorry.)

There is an overabundance of Goldies (golden retrievers), Reds (Irish setters), Jacks (Parson Russells), Scoobie Doos (great Danes), Lassies (collies), and Marleys (yellow Labs). Too many Aussies (shepherds and cattle dogs) are Aussie, Blue, Merle and Sydney. There are Luckies of every breed, mix, shape and size. I wasn't going to mention Cujo…

Through their unconditional love and loyalty, dogs have earned their places in our homes, and, as cherished family members, now get "people names." They are often fondly nicknamed, too. Found in August, Auggie, a handsome Aussie (our first), tossed his cookies on the ride home in St. Augustine. (Was it a sign?). He got this weird look, like "You talkin' to me?" when called. Being a Hoosier, I was familiar with the diminutive Notre Dame football legend. So, by the time we got home, he was aptly named Rudy (aka Wolf, Patutie). He liked his new name and responded within a couple days.

Creative choices -- My mom loved the TV show Friends; her yorkie is named Phoebe. A friend always wanted to return after a long day's work to proclaim, "Hunnie, I'm home." She got her wish. A down-on-their-luck pair bailed from animal control was named Rhett and Scarlett. I know a comical canine named Kramer (Seinfield), and dogs named for their owners' expensive taste, like Chanel, Burberry, and Dolce'. A wine distributor friend shares his life with Shiraz. At Dachtoberfest, I met a lot of wieners, many with German names, like Gretchen and Hans. There was one named Pickle, too. Tater Tot is a rescued pug, who loves potatoes. There is a pair of French bulldogs named for their owner's favorite snack, Peanut Butter and Jelly. Friday is an adorable all-American (mutt) who went to his forever home on TGIF. I chose Boca names for my fostered mutt-puppies' new lives. It was fun to take them outside and call, Addison! Mizner!
Some less-than-imaginative names include Puppy (won't last for long), Tripod (lost a limb), Ducky (found wrapped in duct tape), Mangy (suffered from parasites), Poopie (guess her bad habit), and dogs named for their coat color (Brownie, Red, Whitey). Don't collar a dog with something temporary, bad or sad, or that you will be embarrassed to use in public. A pup I rescued was named Precious. Katie picked her new name as I read off a list.

Avoid names with harsh sounds. Flanked by consonants, and further crippled with a singular syllable is Zeus. Don't pick a name that sounds like a command. Ray rhymes with stay, Joe with no. Choose a name with two syllables that ends in the "e" sound—and be creative.
Dogs deserve names that suit their personalities and that will enhance their lives.