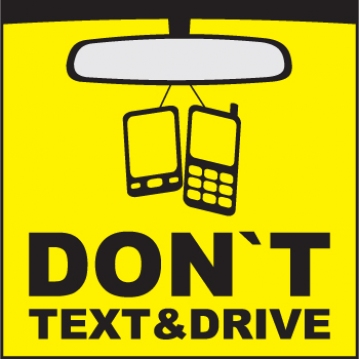 Mr. Shiner manages a boutique law firm headquartered in Boca Raton. Mr. Shiner was recently awarded an AV rating by Martindale Hubble which recognizes him by his peers for his outstanding professionalism, diligence, and capabilities. When not in court, David enjoys fishing, playing golf, collecting watches and spending time with his family. The Shiner Law Group has been successfully representing people in all areas of personal injury, motor vehicle accident, and commercial litigations for over a decade. David I. Shiner, Shiner Law Group 561-368-3363 Office Info@InCourt.com www. InCourt.com
Without a doubt, using a cell phone while driving can have grave consequences, particularly if an accident occurs due to a driver's inattentiveness. As of October 1, 2013, Florida now has a ban on cell phone usage while driving. If caught texting while driving, you will be fined $30 as a secondary offense which means you need to be pulled over for another traffic infraction first.
While the focus for many lawmakers has been on teens who text while driving, studies have shown that adults are often just as guilty of texting while driving. In fact, a 2012 AAA Foundation for Traffic Safety survey showed that about two-thirds of all drivers read a text or email while driving. Regardless of a driver's age, cell phone usage in any form while driving can lead to serious car accidents.
Even the federal government has recognized that cell phone usage while driving, as well as distracted driving in general, is a serious epidemic in the U.S. Nevertheless, there are drivers in Florida, and all throughout the country, who still insist on making that phone call or sending that text while navigating the roadways. Individuals should realize, however, that if they get into an accident while using their cell phones, they may be held legally responsible for another person's injuries.
Holding Cell Phone Users Responsible For Their Actions While Driving Many accident victims often wonder who they can hold responsible for the injuries incurred due to another driver's inattentiveness or negligence. A driver who is operating a motor vehicle while he or she is not paying proper attention to the roadways can be found guilty of a reckless or careless act, which can lead to a legitimate legal claim. Accident victims who are hurt in such accidents may be entitled to compensation for lost wages, medical bills, emotional distress and pain and suffering, among other things.
Other Parties Might Be Held Legally Responsible For Cell Phone-Related Accidents Depending on the type of job a person has, he or she might be required to handle business or remain in constant contact with an employer through the use of a cell phone. That being the case, accident victims should be aware that some employers might also be found liable for accidents caused by their employees' cell phone usage, particularly if the driver was on a work-related phone call when the accident took place.
A motor vehicle accident that is caused by a driver who is using a cell phone can turn an accident victim's world upside down. Please remember, texting and driving can always wait. It's not worth an accident or injury to yourself or others.