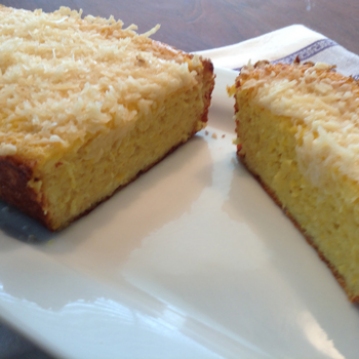 I want to bring you guys a delicious and nutritious recipe to accompany with any meal. It is quick and easy to make, and is served warm. Enjoy!
Ingredients
• 1 can Sweet corn (432g)
• 6 Tbsp Dry whole milk
• 4 Tbsp granulated sugar
• 4 Eggs
• 1 Tbsp Self-rising flour
• 1/4 tsp Salt
• Parmesan cheese for sprinkling
• 8 1/2 x 4 1/2 inch Baking dish
Preparation
Preheat oven to 350 degrees F
1. Grease and flour the baking dish
2. Process all ingredients in a blender, leaving the grains with some consistency.
3. Pour into the baking dish and place in the oven for 45-48 minutes. Do not open the oven up to 45 minutes. Insert a toothpick, which should come out clean. Remove from the oven, pass a knife around, unmold and sprinkle generously with Parmesan cheese. Serve warm.