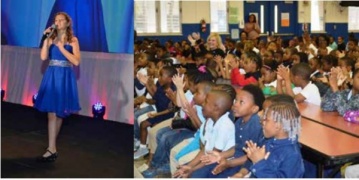 13-year old Biana Pinchuk has not only been featured in America's Got Talent, she has also won the South Florida Kids Got Talent contest, and was selected as the youngest in a nationwide talent search by Phil Collins to perform in his Little Dreams Foundation.
A composer, singer and violinist, Biana wrote her first professional piece at the tender age of six. Her singing ability was discovered by mistake while her family was visiting cousins in the mountains. They had rented a karaoke machine for some family fun and everyone was totally astounded at how well Biana sang. When she was five, a family friend referred her parents to an opera vocal teacher, but the opera coach was hesitant to meet since she only worked with adults and felt children were not capable of producing the correct sounds. Ultimately, she agreed to meet Biana. Afterwards, she excitingly told her parents, "You have a very special child. Only one in a million children have this type of talent." Biana experienced her first stage performance at age six in a Boynton theater with 1600 people. Since then, she has traveled internationally, nationally and locally to perform at prominent private and professional events, country clubs, and for nonprofits. Her young accomplishments are rare and inspiring. Biana was a top finalist in NY Broadway's "Annie" ranking 11 out of 23,000 kids. She's been featured at the Arsht and Broward Centers for the Performing Arts, with the Florida Grand Opera and as a leading George Benson's Benefit Concert. She has also performed for Miami Beach's 100 Year Gala, for Artist Britto events, and she has sung the National Anthem at Pro Sports arenas, for military and special city events.
What makes Biana unique besides her accomplishments, is her desire to make a difference. She often performs for well-known nonprofits such as: The Make a Wish Foundation, The Children's Trust, JAFCO, Israel Bonds- Miami, and many others graciously helping them to raise funds.
Most notably, Biana has discovered her passion and purpose by helping school children. She has become an advocate for the arts. To help overcome deficient school arts budgets, she created a "Classical Music School Tour" program, where she visits schools and teaches assemblies of students about "The Art of Classical Music". Most students have never seen an opera or attended a classical music performance before, and they are mesmerized responding with great enthusiasm and joy. Students learn about the art form as Biana teaches, performs and holds a talk back session afterwards. She really enjoys interacting with students and the kids give her incredible feedback. Biana feels that this special program has been incredibly rewarding and has added meaning to her life. Students, teachers, and administrators give her classical school programs accolades, Biana's wish for her young audiences is that they learn to discover what they love and use that gift to make life nicer for others.
On December 21, Biana performed a family holiday program at the Boca Black Box Theatre.
For More information: visit www.BianaPinchuk.com