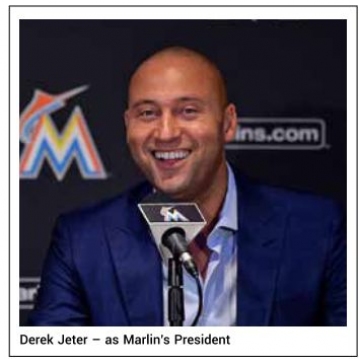 For most of us, 2017 was a year like none other. From presidential vacations, to a storm named Irma, to the changing cultures in our midst, the year was a lot of things - none of them boring. We at the Happy Herald's sports department hope you have a wonderful and safe holiday season, and take a minute to reflect on all the good things in your life. After all, as the man once said, be grateful for what you do have – not what you don't.
To that end, in South Florida the sports scene was somewhat of a mixed bag. Change was certainly the watchword, and depending on your point of view, could be the start of an exciting time – or a harbinger of things to come.
So, with that, we bring you our list of the top ten sports stories for our area in 2017. Feel free to discuss and disagree.

10. Cheese's shot for the ages - UF Hoops' run to the Elite Eight

College basketball often takes a backset in our area, but back in March Chris Chiozza lead Florida to the Elite Eight with a shot for the ages, when he let fly a running three from the top of the key to beat Wisconsin in overtime. While UF would later fall to South Carolina and fail to make the Final Four, Chiozza's shot reminded us once again of the magic moments sports can provide.

9. More grapefruit for Palm Beach County

Time was, spring training in our state was the only time to see major league baseball in our state (given the state of the Marlins and Rays, some would say that's still true) but with the advent of expansion, that's not the case. Still spring training is a big deal and that fact was emphasized when Palm Beach County inaugurated its new baseball facility. Now, both the Nationals and the defending champion Astros will share new digs in West Palm Beach. It's a win-win for all: more money for local businesses and more chances for us to see our heroes.
8. Match Point for Crandon Park?

This one may not yet play out, but the notion that the Miami Open tennis tournament could leave Key Biscayne for Hard Rock Stadium is worth keeping an eye on; of course, the Matheson family may have something to say about that, so stay tuned.

7. Local boys make good Congrats to the following schools for their state football championships: Miami Northwestern (6A), American Heritage – Plantation (5A), Chaminade- Madonna (3A) and Champagnat Catholic of Hialeah (2A) - well done, men!

6. Heat's second half surge While finishing .500 is never something to brag about, the Heat made it interesting by going 30-11 over the last half of the season. Whether NBA success comes this year is an open question.

5. Dolphins flounder Coming off last year's success, the 'Phins were a trendy pick to go deep in the playoffs. Instead, injuries, trades and generally poor play left the team 6-7 as of this writing, and looking at another playoff-less year. If you're keeping track, that's two playoff appearances in 16 years.

4. Marlins new ownership… In September, news broke that our long civic nightmare, with regard to Jeffrey Loria's ownership of the Marlins, ended with the sale of the team to a group headed by financier Bruce Sherman, and which included Derek Jeter.
3.… off to a rocky start.
But, in what has to be the shortest honeymoon ever for a new ownership group, the tide turned with the news several famous team faces were fired, followed by the trade of three of its star players, most notably Giancarlo Stanton to the Yankees. Meet the new boss, same as the old boss.

2. Ch-Ch-Changes
In September, hopes were high for UF and FSU football, but fate has a funny way of deciding what happens to expectations. Then, Jimbo Fisher bolted for Texas A&M (and 75 million guaranteed dollars) and Jim McElwain referenced unsubstantiated death threats – and voila, new coaches appear. Now it's up to Willie Taggert and Dan Mullin to right their respective ships – good luck, guys.
1. 'Canes are back
Coach Mark Richt promised a return to glory, and he delivered. Miami went 10-2, won the Coastal Division for the first time ever, and landed a spot in the Orange Bowl. And they're ahead of schedule. The future looks very bright, indeed.
That's it, folks. Hope 2018 brings us many more memories, and we'll do our best to review them with you.
Cheers!