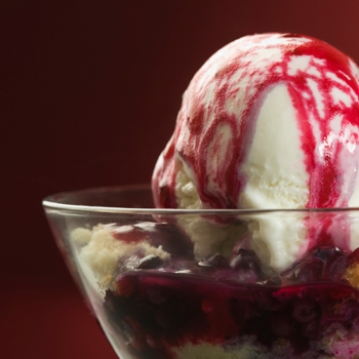 Ingredients:

1 1/2 cups cashews, soaked overnight, drained, and rinsed
2 14-oz. cans coconut milk
1 5.4-oz. can coconut cream
3/4 cup 2 Tbsp. agave nectar or coconut nectar or preferred sweetner
2 tsp. 1/2 tsp. vanilla extract
3/4 tsp. peppermint extract
2 pinches salt
1 1/2 cups strawberries, puréed or mashed with a fork
Fresh strawberries, shaved coconut, and mini candy canes, for garnish

Instructions:

Add the cashews, coconut milk, and coconut cream to a high-speed blender and blend until very smooth, about 2 minutes.
Reduce the blender speed to medium-low and add 3/4 cup of the agave, 2 teaspoon vanilla, the peppermint extract, and 1 pinch of the salt. Increase the speed to high and blend for another minute.
Transfer to an airtight container and freeze for at least 2 hours.*
In a medium bowl, combine the strawberries and the remaining agave, vanilla, and salt.
Add a small amount of the strawberry mixture to the bottom of a glass, then add a layer of the gelato and repeat.
Garnish with fresh strawberries, shaved coconut, or mini candy canes - or all three.
*Alternatively, if you have an ice cream maker, follow the instructions for using it and then freeze the gelato.