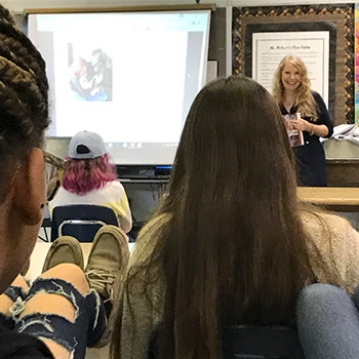 It was 1997, and the United States media were talking about Ellen's coming out episode. Cameos by Oprah, Melissa Etheridge, k.d. lang, Laura Dern and Billy Bob Thornton made the hilarious and historical show even more notable. People of all ages who were struggling with family rejection and the fear of being ostracized, bullied or even worse, watched the show with a feeling of jubilation and recognition. And from one end of the U.S. to the other, whether urban or rural, a collective sigh of relief could be heard from challenged youth and adults.
Why, you might ask, is an animal advocate who writes a column called "Animal Heroes" writing about Ellen DeGeneres? The answer is simple. She helps animals, both human and nonhuman animals, and I was one of the humans that episode helped.
Then Ellen became vegan – wow, can a person get any kinder? When I was surprising kids who rescued sea turtles in Fort Lauderdale with awards, I dedicated the presentation to Ellen for going vegan, and helping animals and the earth.
Now on Feb. 1, the Queen of Kind is coming to Hard Rock Stadium. I am thrilled to write that I have tickets – yes, the seats will be quite far away, as they're in the section where I may have to take something for my fear of heights – however, this gives me an opportunity to give Ellen a copy of "Animal Hero Kids Voices for the Voiceless" book. If anyone can help get the word out about the goal of gifting a copy of this youthempowering book to every school library after each free, Animal Hero Kids kindness education program I present, it's Ellen – she has opened the hearts of the world. Whether she is dancing or laughing or crying, Ellen and her show "ellen" dominate the television talk show landscape.
Will you take a moment to help Animal Hero Kids' mission of making the world a kinder place for all? Go to animalherokids.org and scroll down to send a message to "ellen" about the 40 years of volunteer work I have been doing to help animals, and the fact that if students read the Animal Hero Kids book, we will be much closer to ending animal cruelty.