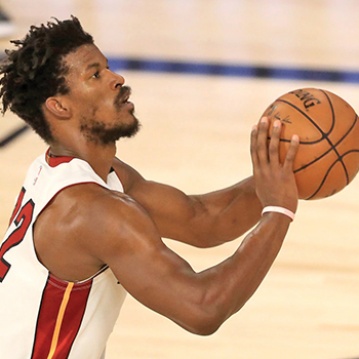 It can be a little overwhelming these days, what with daily reports of political unrest, divisive political discourse, weather disasters and of course, the continuing fight against the scourge of COVID-19. I've seen a change in my own attitude, especially towards sports and events I used to revere. The World Series was just played? The Masters is on the horizon? Pro and college football games are being played? Who cares? When the overriding theme of this time is impending disaster, it can be hard to summon up enthusiasm for any upcoming events – but guess what?
That's what we have to do.
With that in mind it's time to celebrate the accomplishments we may have overlooked over the last few months. If you need to look for inspiration, look no further than our own backyard, where the NBA's Miami Heat just concluded a very satisfying year, losing in six games to the Los Angeles Lakers in the NBA Finals. En route to that result, the Heat beat Indiana, Milwaukee and Boston, and it wasn't in a fluky way; in each series the Heat's depth, preparation and commitment to excellence was on full display. Yes, the Bucks did not have Giannis at 100 percent, but guess what? They were winning that series anyway. The idea of luring Jimmy Butler to Miami, and then surrounding him with complementary talent – be it with shooters like Tyler Herro and Duncan Robinson, the steadiness of point guard Goran Dragic, or the amazing development of center Bam Adebayo (now arguably in the top five at his position in the league) – worked perfectly. You hear the word culture a lot in sports – both good and bad. A bad culture (see perpetually losing teams who never get over that stigma) can infect an organization for years. Conversely, good culture accepts different personalities and inculcates them into a different way of doing things: players buy into the idea because he/she sees success in following that path. Jimmy Butler came to Miami in part, because he so admired Dwayne Wade and Pat Riley's way of doing things. No, they hadn't won big, but that was because the NBA is still a stars league (see the Lakers). Yet their approach shows there is still value in doing the little things right – if everyone does their part, success will follow. Now, they must build on this year's success and add a missing piece or two – but the foundation for winning is in place.
The other feel-good story, at least locally, is the Dolphins – yes, those Dolphins. Guess what? They're okay and on the road to being good. We mentioned earlier about losing cultures, but Coach Brian Flores is a graduate of the Patriot school of success; and while the Belichick coaching tree is not overly successful, Flores appears to know what he wants to do, and is building the team his way. Now they are far from a finished product, and still need more playmakers, but they are on their way – and don't be shocked if they are surprise playoff participants this year.
So, local sports fan, don't despair, as the future appears bright – even the Marlins won a playoff series this year! Besides, being negative isn't going to make the day brighter or the nights shorter. As retired MLB umpire Nestor Chylak once told my dad: "Attitude, it's all about attitude."
Be positive!