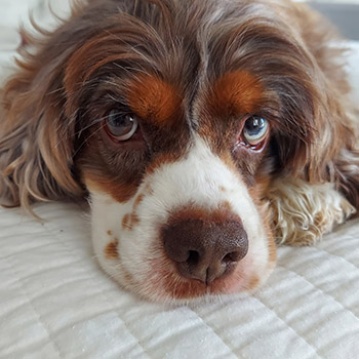 Almost every dog lover imagines their coveted canine emblazoned in print, scattered across social media – maybe even getting paid in something besides dog treats. Having a pretty pooch isn't all it takes. What can you do to tip the scales to attain 15 minutes of fame and make you an even better dog parent?
I recently had two assignments with multiple dogs I had never met. There was commonality between both jobs. The people were all nice and extremely devoted to their dogs. The dogs were wonderful. Their manners (or lack of), not so much.
When you don't teach your children table manners and you go out to a restaurant, and they act like hungry wild animals, who is to blame? Not the child. We've all heard "There are no bad dogs, just bad owners." While these people are far from being bad owners, their dogs' lack of basic commands could jeopardize more than just their chance at fame and fortune.
It's no wonder that we talk to our beloved dogs. We want to tell, tell, tell this loving captive audience everything. Some people have an unrealistic expectation that dogs listen to our words alone, and forego teaching hand signals. As a sight-reliant species, the reality is, dogs observe body language far more than they understand what we are saying.
We say, "Josie, come! That's my girl, Yay." The dog hears, "Josie, blah blah blah blah!" while she is watching your every move carefully.
As a photographer, I envision the end goal/image before I ever pick up my camera. What is the message of the image? What feelings or thoughts do I want to evoke? What are the colors and tones I want to light? I then work backward, assembling all the elements, from the answers to those questions to props, possibilities and alternatives. Whether you're planning a family portrait with Fido or auditioning for a possible gig, here are some tips to assure the best experience and results for all:
Learn and use AKC signals and commands. EVERY dog should know sit, down, wait/stay. Leave it (command) would be a huge bonus. Training together increases the bond between you and your dog. Obeying these commands results in better images and could very well save the dog's life.
Combine senses to solidify what you want your dog to do, with a verbal cue, hand signal AND let them sniff the aromatic treat awaiting, if they oblige.
Bring healthy, small, DRY training treats. Chicken or cheese can be messy.
Bring a small bowl and chilled water for you and your dog. Modeling is hard work!
Arrive with a hungry dog, who has something to gain. If a dog isn't food-motivated, know what fuels them. A ball, squeaker, chin scratch, words of affirmation?
Patience and keeping the session FUN are key for all involved.
Make sure your dog is freshly bathed, brushed out and free from nasties (fleas and ticks). Bring brush, comb, any props.
Use a standard 4-6' lead – never a flexi/retractable. These can easily be pulled from your hand and you have far less control over the dog.
Give a command once. Every time you repeat a command you water it down, and decrease its effectiveness.
Vary the treat/reward delivery. Stop giving so many treats. The dog will get full and will be less likely to obey/work.
Time is money. The longer it takes to get the shot, the more resources are wasted. Make sure you and your pooch are accommodating and easy to work with. You may just get more than dog treats and 15 minutes of fame!