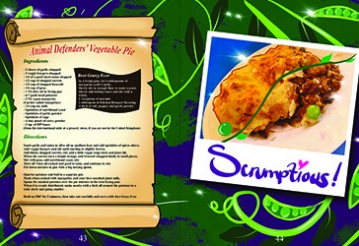 Here we are at that time of year again – we are planning the table settings and the number of guests for another vegan Thanksgiving.
Every year it gets easier and easier to eat vegan goodies. Of course, cooking is always the first and least expensive way to go: roasting vegetables, mashing potatoes and making the best gravy in the world – not the best vegan gravy in the world, the best gravy! I can't take credit for the recipe, it's in the "Veganza Animal Hero" picture book.
My gift to you is this Animal Defender Pie and Gravy recipe, follow this and you can't go wrong! The gravy was poured over last year's Thanksgiving Vegan Roast and roasted veggies.
Featuring the pastrywrapped hazelnut, cranberry and rosemary-flavored plantbased Field Roast, it was delish.
It's so easy to create vegan meals, just replace animalbased products with the vegan version. The good news is there are so many affordable veggies too!
Mashed potatoes anyone?
Save Turkeys – Buy Vegan Turkeys
These vegan turkey options are available at most major grocery store chains across the country, including many Whole Foods, Publix, Target, and Kroger locations.

• Aldi: Earth Grown Vegan Meatless Turkey Breasts
• FieldRoast: CelebrationRoast

• Field Roast: Hazelnut and Cranberry Plant-Based Roast Pastry Wrapped
• Field Roast: Sage and Garlic Celebration Roast

• Field Roast: Sage and Garlic Plant-BasedCelebration Roast

• Gardein: Savory Stuffed Turk'y
• Gardein: Turk'y Roast

• Sol Cuisine: Stuffed Turk'y Roast with Gravy
• Tofurky: Plant-Based Roast and Wild RiceStuffing

• Trader Joe's: Breaded Turkey-Less StuffedRoast with Gravy
• Whole Foods Market: 365 Meatless Plant-Based Roast with Gravy

Save Pigs – Buy Vegan Ham
Try a little tenderness with these juicy vegan hams, which are sure to steal the show.

• Herbivorous Butcher: Ham Roast

• Lily's Vegan Pantry: Vegan Ham

• Tofurky: Ham Style Roast
• Tofurky: Plant-Based Ham Roast withAmber Ale Glaze
• Vegetarian Plus: Vegan Ham Roll Vegan Stuffing Many premade stuffing mixes are "accidentally vegan." Be sure to doublecheck the ingredients, and use vegetable broth, sage and vegan butter. I sauté onions, sage, rosemary and celery in Miyoko's Vegan Butter as a base when preparing.
• Arrowhead Mills Organic Savory Herb
• Ian's: Gluten-Free Homestyle Stuffing
• Mrs. Cubbison's

• Pepperidge Farm: Herb Seasoned CubedStuffing

• Thrive Market: Organic Grain-Free (or whole grain) Stuffing Mix
• Whole Foods: 365 Everyday Value Organic Multigrain Stuffing Mix
Thankful for the "Veganza" books Artiste Extraordinaire
On the San Francisco leg of the World's First Veganza Animal Heroes Global Tour. I met Monique Martinez for the first time in person. She's the illustrative artist for both Veganza books. I originally saw her art on Instagram and loved it! She's a selftaught artist and a vegan. I private messaged her, and she said there's a certain type of software program she needs, and her computer was broken, so she could not think of taking on illustrating work at the time.
I suggested sending the funds for her to purchase what she needed, and it could be subtracted from the fee for her creating the Veganza book art.I sent a wire transfer to San Francisco from Fort Lauderdale, and the bank manager asked me, "How do you know this person again?"
"I saw her art on Instagram," I replied, and you could tell he thought it was risky. But this was the launch of an exceedingly productive partnership – the beautiful scenes created in the Veganza books are testament to this fact. I write a few pages and Monique envisions what I see in my mind's eye – magic!
One of the many things I am grateful for this year is finally meeting Monique in person at the Mindful Eating Film and Food Festival. I read the book in Veganza mode during the San Francisco stop at the World's First Veganza Animal Heroes Global Tour. See the art for yourself at BEanAnimalHero.org.