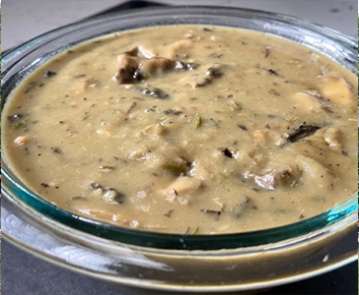 This vegan mushroom gravy is deep, flavorful and luscious.
INGREDIENTS
• 2 pounds mixed wild mushrooms
• 2 cups vegetable stock
• 1/2 cup white wine, Chardonnay
• 1/4 cup all-purpose flour
• 1/4 cup vegan butter
• 2 tablespoons extra virgin olive oil
• 1 shallot, minced
• 3 cloves garlic, finely minced

• 1 tablespoon coconut amino
• 1 heaping teaspoon fresh thyme, finely minced
• Pinch of sea salt and black pepper
PREPARATION STEPS
1. Heat a large sauté pan or Dutch oven on high heat
2. Add olive oil, mushrooms, shallots and garlic.
3. Cook until caramelized and dark in color and then add vegan butter and allpurpose flour.
4. Stir until brown roux forms and then deglaze with white wine, while whisking vigorously.
5. Next add remaining ingredients and bring to a slow simmer.
6. Cook for about 25 to 30 minutes until reduced and thick.
7. Check and adjust your seasonings until bold and flavorful. Set aside.press it together very well so it doesn't fall apart.
Garnish with cacao nibs and coconut shreds and press them down a bit.